The ongoing trend of the traditional automotive parts getting an upgrade with electrification and smarter capabilities has never been more evident than ever at the Taipei AMPA show, showcasing Taiwan's technological advances for the world to see. For example, the Automotive Research & Testing Center (ARTC) had been leading development in designing auto lamp adaptive driving beam (ADB) system through imaging and algorithms, with the aim to popularize the high-end ADB technology.

In the past, ADB, or smart headlights, is often a luxury for mid to high-end car owners, though these days, the technology is more available, making headlights even brighter and maintaining a constant beam. Rather than have the driver switch between brightness settings, smart headlights can be controlled through the system and sensors, adjusting either the shutter system, which physically blocks parts of the headlight beam, or turning on and off multiple light sources to change the headlight beam.

Joe Tu, a promotions engineer at the ARTC research development division, pointed out that ARTC's R&D direction leaned towards system integration to improve the product's competitiveness and allow suppliers to get a leg-up in the global market. System integration included considered factors like combining optical designs (matrix LED headlights and optical imaging design), image process algorithm, embedded hardware, long-range nighttime vehicle recognition, hardware and software integration, and development verification.

By fitting the headlight with a camera, ARTC improves detection accuracy by using algorithms to train the system and sensors to control how the headlight beams react and to apply and block light when detecting light sources. By applying and blocking light when approaching opposite direction or same-direction vehicles, ADB would help lessen the headlight glare on the drivers and improve lighting and driving conditions at night. Using the product developed with domestic auto lamp maker Depo, ARTC presented an ADB headlight that is equipped with nine independent lighting modules, adheres to ECE-R 112 high beam specifications, image detecting range between 30 to 155 meters, and light-blocking specifications adhere to SAE J3069 standards.

Tu explained that the system ARTC developed isn't a single algorithm but rather something that operates similarly to a nervous system sending signals to the next step, a network of algorithms to control headlight light beams in its respective module in tandem with external light sources.

ADB, while mass-produced, has yet to become popularized outside of mid-to-high-end vehicles. Tu has said they aim to push ADB systems to become more applicable across different brands and allow more drivers to enjoy the advantages of using smart headlights.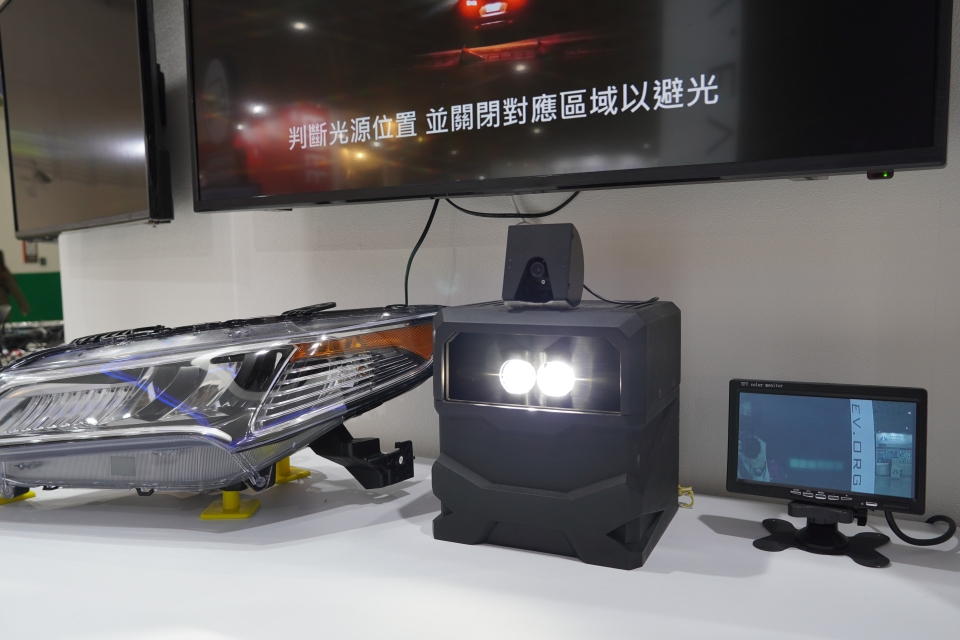 Photo courtesy of CENS