Quality tire maker Goodtime Rubber has acquired multiple international certifications in the U.S. (ISO 9001, DOT) and EU (E-mark, REACH), and primarily supplies ATV tires, solid air tires, lawn mower and garden tires, trolley tires, tool cart tires, go kart tires, trailer tires, light truck tires, auto rickshaw tires, snow hog tires, agricultural tractor tires, scooter tires, high-speed tires and various inner tubes.
Since setting up its factory in 2001, Goodtime Rubber has dedicated the next two decades to tire and inner tube manufacturing. The company is based in Taiwan, with a factory in the Tây Ninh Province, Vietnam, and has over 600 employees. Many of Goodtime Rubber's products are marketed to Europe, the U.S., the Middle East, and Asia.
To meet global market demands, Goodtime Rubber has separate production lines for outer and inner tires. Together with emphasis on improving internal teamwork, the company instilled foundations to help build both internal trust, and foster external trust among clients. Goodtime Rubber can offer competitive prices and fast delivery at the best quality possible.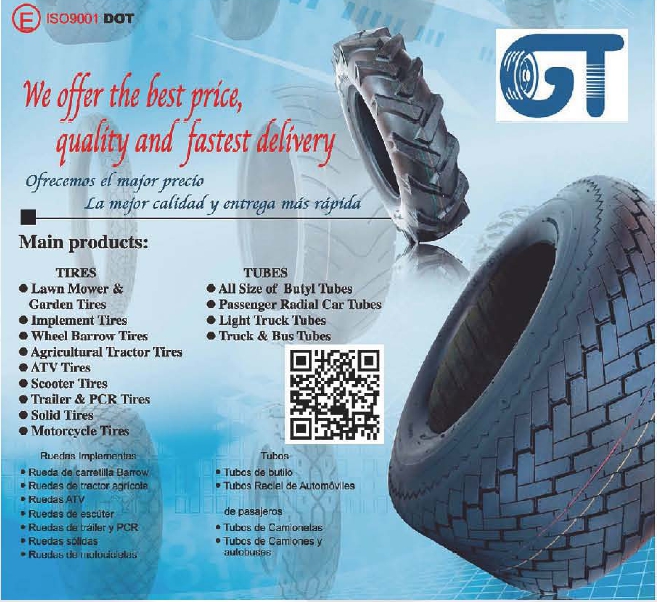 Goodtime Rubber Co., Ltd.
5F, No.86, Yongchang St., Yuanlin City, Changhua City 510, Taiwan
Tel: 886-4-832-2568
Fax: 886-4-833-1186
E-Mail: sales@mail.goodtimegroup.com.tw
Website: www.goodtimegroup.com.tw