Tan Kong Precision, founded in 1978, manufactures quality steel balls from various materials, sizes, and grade, aiming to provide precise, quality, and reasonably priced products. In terms of balls used in linear motion guides, ball screws, or miniature ball production, Tan Kong's quality is on par with advanced technologies in Germany and Japan, yet can still offer reasonable prices, costs, and a comprehensive solution to service clients.

As Taiwan's top precision rolling elements maker, Tan Kong is also one of the few suppliers capable of making bearings, and rolling bearings for automotive and aerospace industries. On fifty-thousand square-metered factory grounds, Tan Kong's manufacturing capacity is approximately 500 metric tons per month. They are also focused on steel balls smaller than 3.175mm production. Tan Kong has acquired ISO 14001 and IATF16949 international certifications as well.

Tan Kong is now servicing clients in bearings, machine tools, automotive, and electronics industries, and aims to become a top, global-level precise steel ball supplier. The company currently has worked with big-name brands, including Swedish-based SKF bearing company, Germany's Bosch and Schaeffler-INA, Taiwan's Hiwin, Global Transmission Technology, ABBA Linear Tech, and Japan's IKO. Other auto brands include GM, Delphi Corporation, and Continental Automotive.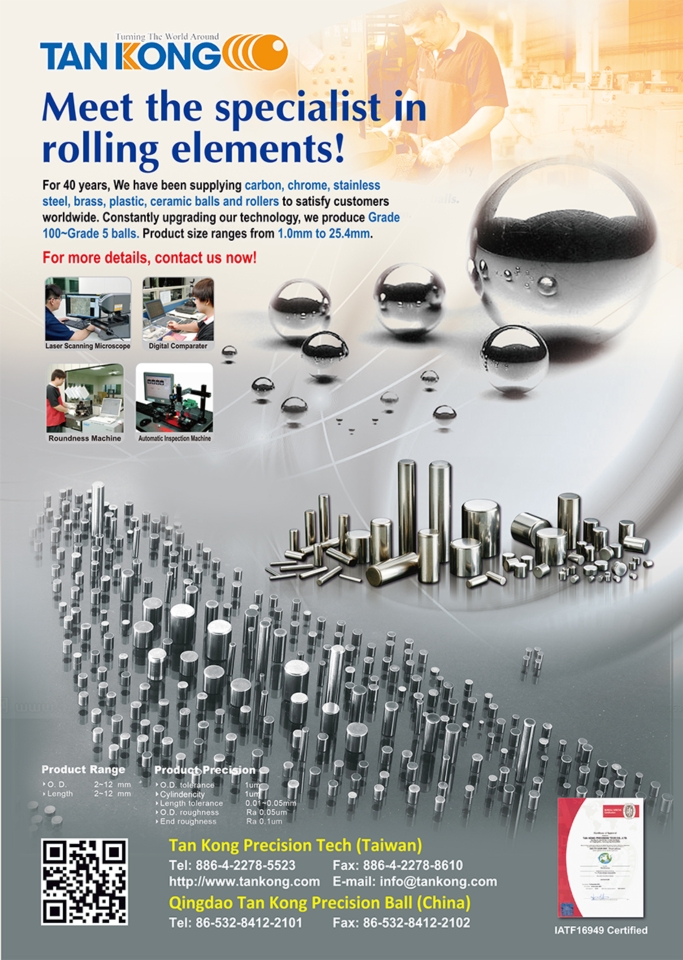 Tan Kong Precision Tech Co., Ltd.
No. 24, Alley 8, Lane 44, Hsinjen Rd., Sec. 1, Taiping Dist., Taichung City, Taiwan 411
Tel: 886-4-2278-5523
Fax: 886-4-2278-8610
E-mail: info@tankong.com
Website: www.tankong.com