In pursuit of perfection, Deeplet is a Taiwan-based DVR/IPCam manufactory with 30 years of experience in the corporation group, all the while placing innovation at the forefront in the development and manufacturing of high-quality surveillance products with sophisticated networking capabilities.
The company's products have been certified with a variety of CE/FCC/BSMI/VSCC/RoHS/UL, based on marketing standards. System applications such as surveillance, remote monitoring/control, integration, and management are all created under Deeplet's experienced R&D team. The team is also providing SDK integration /Mobile App/Push server /Taiwan P2P as a hacker terminator.
To achieve the highest inter-connectivity and inter-operability, the products are all based on industry-leading front-end to back-end surveillance infrastructure. Deeplet is dedicated to helping its partners to add value to flexible customization and encouraging OEM/ODM cooperation.
New Taiwan SoC (NOVATEK) Authorized production – 4K/8MP Resolution
100% Made-in-Taiwan, a declaration with NDAA complaint against China SoC products.
Deeplet is deeply invested in protecting client user experience and security, and has incorporated special anti-counterfeiting code to guarantee high-security protection in its software solutions.
The platform itself is also designed in consideration of web-based edge applications:
 4G/5G/WiFi International Standard
 AHD/TVI/CVI/CVBS/IPcamera hybrid
 POE Build-in (optional)
 CANBUS/OBD-II Data collection/management
 GPS/G-sensor/RS232-485/TPMS Calibration/Trigger alert
 AI interface integrationIdentification/counting /tracking
 360-degree camera system2D/3D view switched automatically when shifting from default monitor.
 Qualified OEM standard; supports various calibration charts for the variety of vehicle models without a limit on order quantity
The NDAA 2019 Section 889 prohibits the U.S. government from procuring video and telecommunication equipment from certain Chinese SoC/components companies and their subsidiaries. The Non-China SoC is currently the major market trend and can stabilize product supplements. Deeplet's powerful and compact solutions can enhance the product value by also speeding up the time-to-market service. Deeplet welcomes any kind of partnership for a mutual win-win business.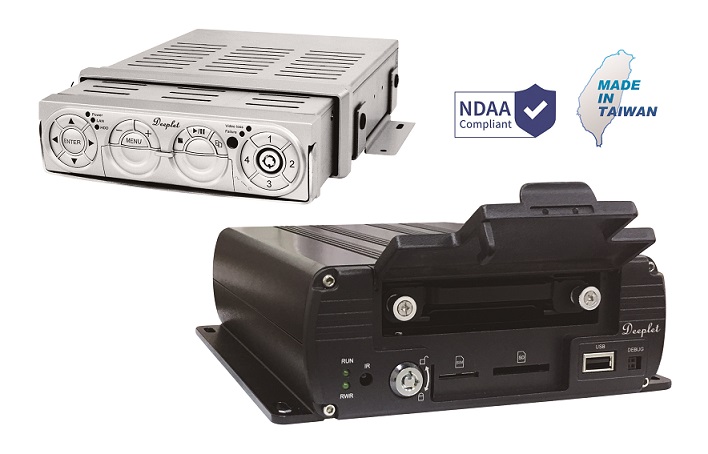 DEEPLET TECHNOLOGY CORP.
11F., No. 166, Jian 1st Rd., Zhonghe Dist., New Taipei City 235, Taiwan
Tel: 886-2-82265288
Fax: 886-2-88265388
E-mail: sales@deeplet.com.tw
Website: www.deeplet.com.tw