Ever since its inception in 1959, Kou Yi Iron Works Co., Ltd. has been engaged in the development and production of various hydraulic machines, as well as injection molding machines that are mainly used in the shoe-making sector.
Backed by its over 60 years of development and manufacturing experience, Kou Yi capably develops and turns out a wide range of machines, including air-blow shoe injection molding machines, EVA foam injection molding machines, one/two-color sole injection molding machines, one/two-color sandals, slippers and plastic shoes injection molding machines, one/two/three-color sport shoes injection and jointing molding machines, and one/two-color rain boots injection molding machines.
Apparently a high-profile maker of this kind, Kou Yi has won many prizes awarded by Taiwan's Ministry of Economic Affairs (MOEA), mostly thanks to its long-term effort on constant investment in R&D for improvement of quality and functionality. For instance, the company won the "Outstanding Machinery Dragon Award," "Good Product Design Award" and "Outstanding Product Design Award" from MOEA, in the past few years.
Furthermore, this R&D-driven manufacturer has also obtained over 15 patents from the MOEA's Bureau of Standards, Metrology and Inspection. All the abovementioned achievements have helped Kou Yi build a solid name among its domestic peers and foreign buyers.
The firm's products have been sought-after by professionals in the U.S., Canada, the Middle East, Africa, Latin America and East Europe.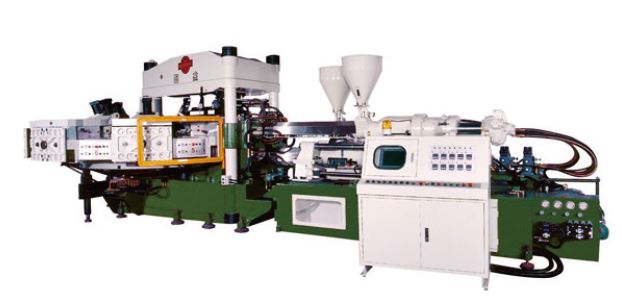 Kou Yi Iron Works Co., Ltd.
Tel: 886-4-2533-1108
Fax: 886-4-2532-2911
E-mail: kouyi@ms15.hinet.net
Website: www.kouyi.com.tw