International Hardware Fair to open on 25th after hiatus
2022/09/13 | By Tingyu Chao
"International Hardware Fair (IHF) in Cologne," an industry-benchmark hardware and tools trade fair, is returning to the Koelnmesse Cologne Exhibition Center on Sept. 25 after a four-year hiatus. Having seen two consecutive shows canceled entirely due to the COVID-19 pandemic, this year's IHF is slated to kick off in a hybrid manner.
Event organizer Koelnmesse show statistics indicate that this year's exhibitor numbers are expected to exceed over 1,000 exhibitors. On display are comprehensive and varied products, including hand tools, power tools and accessories, workshop and factory equipment, industrial tool accessories, protective equipment, fasteners, construction and furniture, lighting parts, upholstery, sanitary ware and accessories, chemical tools, building materials, components, automotive accessories tools, and smart home applications.
As a long-time media partner, Economic Daily News (CENS) will be exhibiting at the Passage 3/11 P003 booth, showcasing the special edition newspaper feature for IHF published by the Economic Daily News and CENS. Buyers would be able to acquire the newspaper, CENS-published "Taiwan HandTools" trade magazine, and "Taiwan Industrial Suppliers e-Book" stored in a USB, allowing them to become reacquainted with Taiwan's quality hardware suppliers quickly. Visiting buyers can also simplify and weed out potential hurdles in the global procurement process by approaching CENS booth publication team members to fill out our biz-matchmaking forms, an exclusive service in the industry that will help buyers match with suitable Taiwanese suppliers in our database.
Also, CENS has rolled out an online matchmaking platform for the hardware industry, allowing buyers to search for the products they are looking for and send out inquiries through the platform. In addition, buyers can search and read in-depth supplier news to understand better potential business partners' operational goals and products and other industry trade show news.
The global supply chain is still undergoing the restructuring process, with buyers highly motivated to seek new business partners at the show during this unprecedented backdrop. However, some countries still have border restrictions and quarantine policies, making it impossible for exhibitors and buyers from those regions to partake in IHF. The event organizer has said that to service these suppliers, they've opened a scheme to allow them to ship the products they wish to exhibit to the fairgrounds and have local fairgrounds or employees assist with product explanations. Other projects include digitalizing the process by allowing exhibitors to present their products through virtual platforms.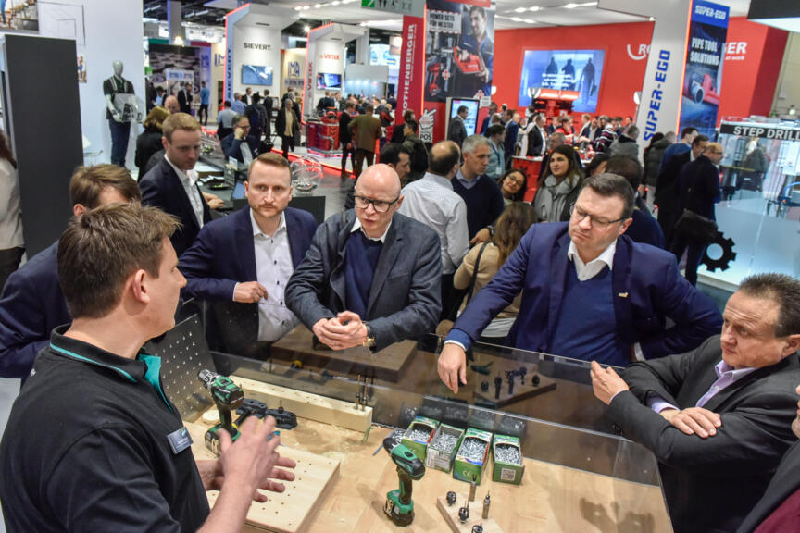 Buyers are shown visiting an exhibitor booth at the International Hardware Fair (IHF) in Cologne in 2018. Photo credit: Koelnmesse / INTERNATIONAL HARDWARE FAIR