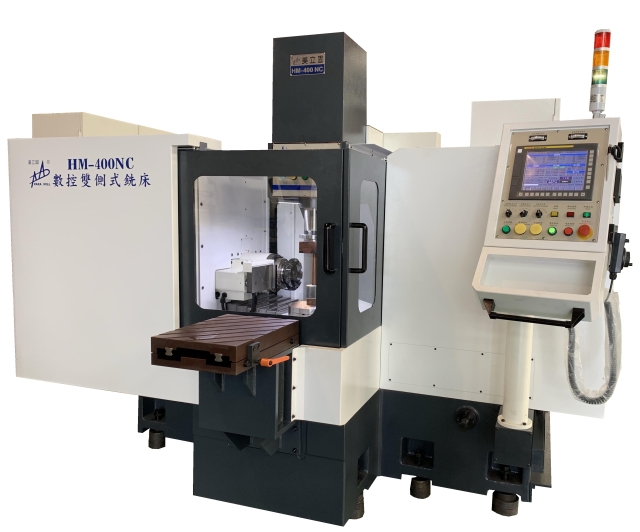 NC Double Sided Milling Machine
Model:HM-400NC Country of Origin:Taiwan
Detail Specifications / Descriptions
■One piece rigid construction machine base.
■Heavy duty cutting spindle (Equivalent NT50) Y and Z-axis.
■X-axis precision linear guide for fast and rigid cutting.
■Spindle guides are TURCITE-B coated and precision scraped.
■5 axes control, X (longitude) Y,Z (L and R cutting spindle) ,W (index) and A (vertical clamping).
■Spindle housing with oil circulating groove.
■HMI user friendly touch screen with dialogic data input, self alarm diagnosis and alarm message display.
■Precision index table: Dia. 250mm. 0°, 90°, 270°, 360°.
■Vertical clamp jig.
■Align stopper for easy setup the 90 degree of workpiece.
■Auto detecting device for measuring he workpiece before machining.
■Complete set of hydraulic system.
■Pneumatic system for air blow and detecting device.
■Screw type chip conveyor: 2 sets.
Send inquiry to this company