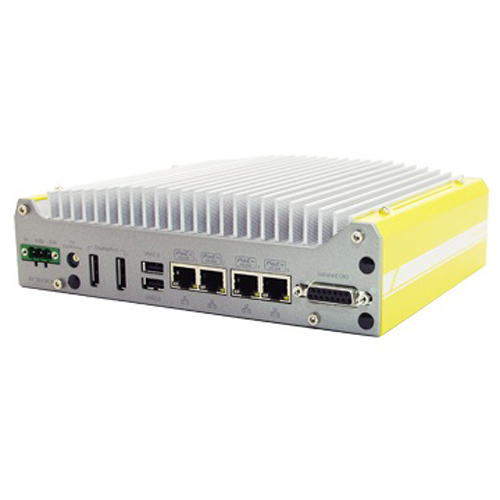 Ultra-compact Atom™ Bay Trail-I Fanless Embedded Controller with PoE and USB 3.0
Detail Specifications / Descriptions
POC-200 is a breakthrough of Neousys' ultra-compact controller series. Inheriting the concept of favorable POC-100, POC-200 series further incorporates greater computing power and more versatile functions in its 3.5" HDD footprint.
The new Intel® Atom™ Bay Trail processor brings a leaping for both arithmetic and graphics performance. With Atom™ E3845 quad-core processor, POC-200 can deliver more than 200% performance over previous D525/D2550 platform. It also feature comprehensive I/O interfaces to make use of the advance of compting power. Two Gigabit Ethernet and three USB 3.0 ports are integrated so you can connect GigE/USB3 cameras for vision applications. Its IEEE 802.3at PoE option is capable to supply 25.5W each port to power you IP camera for surveillance applications. POC-200 also features up to four COM ports and digital I/O for general-purpose industrial applications.
Size is another attractive feature of POC-200. Its 6"x4" footprint makes installation of POC-200 extremely easy. And its -20°C to 70°C operating temperature eliminates the restriction for deployment environment. Neousys provides derivative models with different CPU and I/O configuration so you can always find a fit POC-200 for your application.