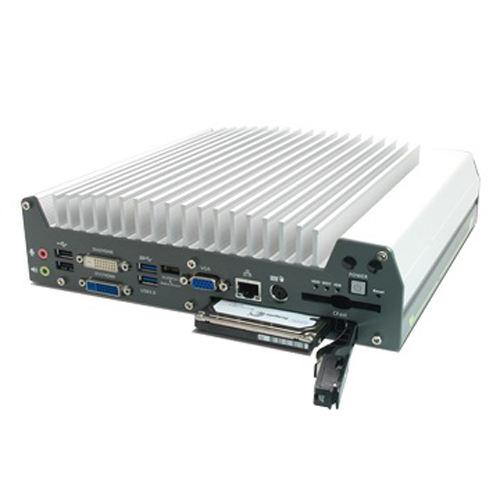 Intel® 3rd-Gen Core™ i7/i5/i3 Fanless Embedded Controller
Detail Specifications / Descriptions
Intel® 3rd-Gen Core™ i7/i5/i3 Fanless Embedded Controller with Low-Profile Chassis and Swappable HDD Tray

Nuvo-3005LP/3003LP is the low-profile version of Nuvo-3000 series for some restricted spaces. It features a new chassis which reduces the height from 88 mm to 69 mm, and remains extraordinary reliability in a -25°C to 70°C operating temperature range.
Nuvo-3005LP/3003LP incorporates the cutting-edge 3rd-Gen i7 Quad-core processor and versatile I/O functions such as Gigabit Ethernet ports, USB 3.0 ports and dual independent display outputs. It also offers the options of PoE (Power over Ethernet), isolated DIO and ignition power control for a wider range of applications.
Its newly-designed chassis offers one fixed 2.5" HDD accommodation and one hot-swappable 2.5" HDD tray. Users can take advantage of its storage design for applications that requires frequent HDD replacement. Combing its low-profile chassis and PoE option, Nuvo-3005LP/3003LP is a suitable platform for advanced surveillance/security systems.