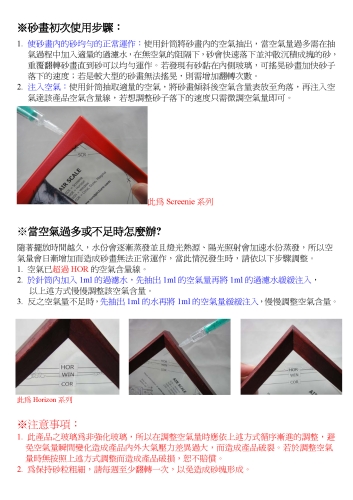 Detail Specifications / Descriptions
When to add water to your sandpicture.
About once a year, you will need to refill the evaporated water. When the sand takes up
more than 60% of the sand picture, it is time to add water. Follow these steps:
1) Use purified drinking water or boil (and cool) tap water (don't use distilled).
2) Move the sand away from the area near the air hole.
3) Remove one injector tube of air from the sand picture using the steps advised
above. Release this air out side of your sand picture by pushing the plunger
down.
4) Add water into the injector, insert the injector into the air hole and push down on
the injector. You will see the water going into your sand picture. Before
removing the injector pull out the same amount of air out of the picture, which is
very important!
5) Repeat this procedure until you can see the sand level lowering to half of the
picture.
WARNING: Follow these instructions very closely.
Adding to much water or taking out too much air could create a pressure problem inside
the sand picture and the glass could break. Our guarantee does not cover any breakage
due to this reason. For more information, please visit our website www.sandpicture.com
With normal use, you will enjoy your Rainbow Vision Sand Picture for many years!
Please note the following:
• When you first get your sand picture, you might need to turn them over a few
times to get the sand flowing normally. If some sand is sticking in a corner, just
tap the glass or shake the Rainbow Vision Sand Picture gently. We recommend
that the sand pictures be turned over at least every month.
• Use only the needle provided by us (27Gx2/4 = 0,4x20 mm). They are available
through our web shop.
• WARNING: Contents include an injector with needle. Keep out of the reach of
children. Regulating the air/water balance in the sand picture with this injector is
FOR ADULTS ONLY (AGES 18 AND UP).
• Choking hazard! Keep small parts away from children.
• Do not ingest the contents of the picture.
• Do not touch broken glass.
| | |
| --- | --- |
| Company: | HUNG WEN HSIN CO., LTD. |
Send inquiry to this company
Customers who viewed this item also viewed