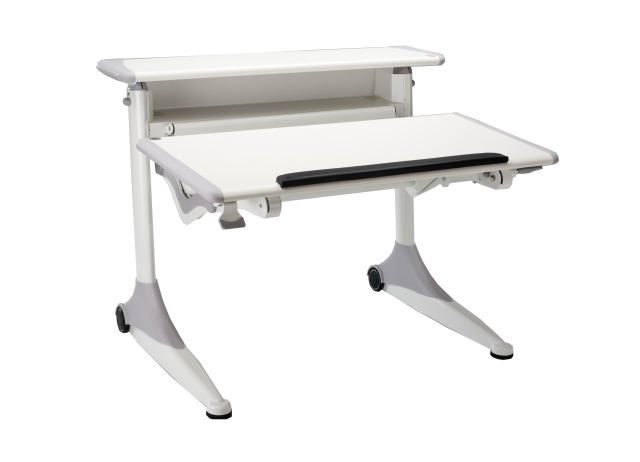 KBN-318 FASHION-series DESK
Model:

KBN-318

Country of Origin:

Taiwan

Color:

White/Light-grey
Detail Specifications / Descriptions
Model: KBN-318 FASHION-series DESK

Colors: White/Light-gray
Desktop: White /Black/ Maple/ Elm
Specs : W-105cm* D-70~79cm* H-78.5cm (+/- 2cm)
Height adjustable range: 46cm~88cm (+/-2cm)
Tilting range: 0°~ 43°degrees (+/-2°)
Plate: E0 Particleboard w/ flame and scratch-resistant surface.
Structure: Iron and powder-coated finish (R.O.H.S approved)

Specification & Description:

1. Height adjustable and suitable for 3-year olds to adults. Free size!
2. Incremental tilt with a simple push.
3. Easily adjustable desk height by wire device.
4. Friendly wrist pad design to fix the books.
5. Portable-designed rear-wheels are convenient to move.
6. Multi-patented Design, SGS-certified.
7. Of eco-friendly, ROHS-approved, scratch and wear-resistant, easy -to -clean materials.