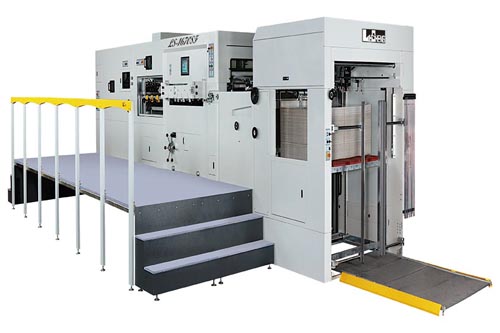 Updraft Feeder Type
Model:

LS-1670SF

Country of Origin:

Taiwan
Detail Specifications / Descriptions
Feeder
•The paper outfeed station employs main-and sub-paper bracket for alternative use without stop of the machine. This results in higher productivity.
•Mechanical transmission system achieves accurate paper infeed.
•The front stop at infeed end can be adjusted vertically to meet paper sheets, assuring the maximum stability of paper infeed motions.
Positioning Mechanism
•The mechanism uses handwheel for adjustment at a time without a need to individually adjust paper pressure wheel.
•Specially designed paper outfeed wheels accommodate various paper and are easy to adjust.
Die Cutting Sataion
•The specially designed safe die cutting frame is easily installed and dismantled.
•Rotating die frame design allows for easy replacement of dies.
•The cutting plate is precision ground, featuring smooth die face.
•The cutting plate is interchangeable to keep creasing matrix for saving die curving time.
Stripping Mechanism
•High-efficiency 3-layer stripping mechanism combined with top and bottom pins strip completely.
•Top unit can be independently adjusted according to product characteristics.
Paper Collection Station
•The paper collection station is a non-stop design, permitting continuous collection of paper.
•Bottom blowing air operated paper aligning design ensures smooth stacking of paper.
•Allowing for inserting paper tape to separation mark according to setting numbers, that upgrades efficiency.