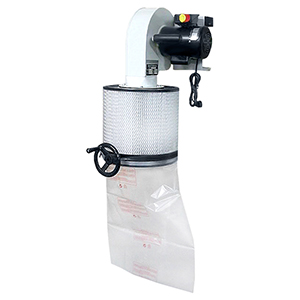 1HP WALL MOUNTED DUST COLLECTOR
Model:

LS00371

Country of Origin:

Taiwan
Detail Specifications / Descriptions
SPECS:
Motor: 1 HP
Airflow capacity: 750 CFM
Impeller size: 10" alloy die-casting
Static pressure: 4.48 InH2O
Inlet diameter: 4"
Canister filter size: D: 385 x 355 mm, 1 micron
Sound rating(noise): <85 dB
Overall dimension(L x W x H): 600 x 530 x 1170 mm
Packing size(L x W x H)1: 470 x 460 x 400 mm
Packing size(L x W x H)2: 400 x 400 x 375 mm
Net/Gross Weight/CUFT: 23.5 kgs/ 25kgs/ 8.1'

FEATURES:
► 1HP wall mounted dust collector is perfect for small
shops that have limited floor space.
► Mounting this powerful dust collector on a wall near
your most used machines is idea for always having
it connected and operating while you work.

Kindly visit www.sbtools.com.tw for full range of our products!!