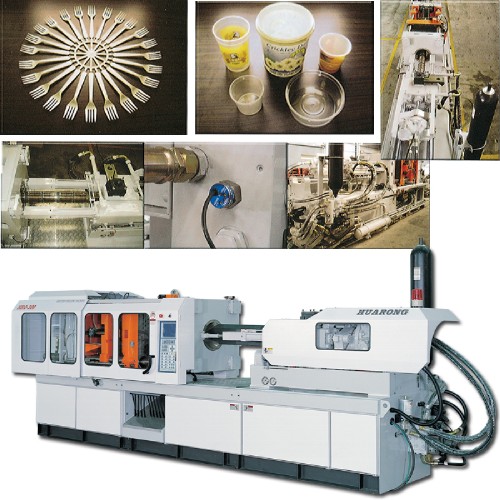 HRQ Accumulator High Speed Injection Molding Machine
Model:

HRQ
Detail Specifications / Descriptions
Description :
1)Twin injection cycling structure enlarge the injection pressure , which oil is imported form Japan to reduce the friction by injection speed.
2)Screw is designed as high L/D, which is easy for molding during low temperature , which plasticized , refinement , injection pressure , stability and precision are all increased.
3)Heater is made by high-temp. type heater band, which heating temperature could reach to 450, which heating temperature could reach to 450 , which is also suitable for molding during high temperature or fast cycle injection . Efficiency is high but breakdown is quite less.
4)Machine is with high speed accumulator injection system, which injection rate is high and suitable for thin wall products or one shot for multi cavities.
5)ACC pressure difference is controlled by switch between 1%~10%, which injection is fast, precise and stable and compensation for pressure is consisted.
6)Hydraulic system pressure could sensor, feedback and compensate the pressure automatically, which loss could be less.
7)Oil filter device is designed to ensure action oil quality, cleanness and viscosity quality.