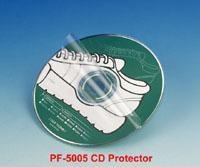 Detail Specifications / Descriptions
CD Overlays Pf-5005
Protectors for CD printed (data) side
Damages on the data side of your CD means damaging the data !
It is designed to (1) protect the data side of your CD from scratches, (2) protect your printed CD labels on your CD.
This product include a cleaning solution, high quality chamois cleaning wipe and 5 CD printed-side protectors.