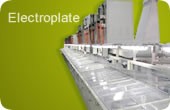 Plating and Surface Treatment
Detail Specifications / Descriptions
Dinkle's surface treatment factories were established for the company's long term development and its among the few who has certified incenses in the mainland China. It's purpose is to satisfy the customers'and Dinkle's requirement, to speed up the delivery time and quality, in order to improve the competitiveness, seting up the road for the buisiness future development.




Most metal materials are unable to meet customers' required quality alone, in order to achieve better appearance, longer lasting against corrosion, improve the conductivity, the finishing treatment includes plating, positive surface plating, coloring treatment . . etc.
Dinkle's current surface treatment includes: plating, and plastic plating, metal injection plating, metal coloring. . . etc.