COMPANY PROFILE

KYMYO Industrial Co. Ltd., Air Tools Manufacturer, was established in 1986 is a market lead air sanders manufacturer, including mini random orbital sander, heavy duty random orbital sander, mini jitterbug sander, heavy duty jitterbug sander, line sander, free sander, finger sander, tri sander, gear driven sander, wet sander, belt sander, polisher sander, disc sander, sander accessory and air file&saw. For years, we have brought in advanced technique at home and from abroad to educate engineers, perfecting abrasive power tools quality.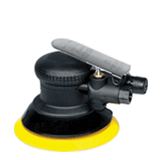 CY309N DUAL ACTION SANDER


With considerable experiences and need of market division task, we keep on developing and innovating new pneumatic tools products. KYMYO's policy is moderate price, great quality, quick service and distinguished features. In Asia, we market our branded KYMYO to Japan, Korea, China, Vietnam, Malaysia, Thailand and Indonesia. Furthermore, we forge solid relationship of contract manufacturing with well-known American and European corporations and sell worldwide. If you are looking for air tools manufacturer, KYMYO is your trustworthy choice, now!

MAIN PRODUCTS/SERVICE
Mini Random Orbital Sanders, Heavy Duty Random Orbital Sanders, Air Sanders, Air Drill, Air Saws, Pneumatic Angle Grinders, Pneumatic Hand Tools, Air Tools, Polisher Sanders, Mini Jitterbug Sanders, Heavy Duty Jitterbug Sanders, Free Sanders, Line Sanders, Finger Sanders, Tri Sanders, Gear Driven Sanders, Wet Sanders, Belt Sanders, Disc Sanders, Wet/Dry Vacuum Cleaners, Accessories, Automatic Wide-belt Surface Sanders, Cordless Grinders, Abrasive Grinding Wheels, Bench Grinders
COMPANY INFORMATION
| | |
| --- | --- |
| Year Established: | 1986 |
| Production Mode: | OEM, ODM, OBM |
| Export Percentage: | 80% |
| Export Market: | Global |
| Brand Name: | KYMYO |
| Business Type: | Manufacturer, Exporter |
| Competitive Advantages: | ■ High Quality ■ Fast Delivery ■ Competitive Price |