George Wang Industrial Co., Ltd. is known for producing quality pliers for various purposes such as fishing, electronics device repair, and the maintenance & repair of jewelry. In addition, it also turns out vises, clamps, cutters, mail pincers, calipers, etc.

The company's tools are made of stainless steel from Japan, ensuring long durability of its products. George Wang's pliers feature handles covered with the thermal plastic rubber (TPR) materials to ensure a comfortable grip.

The company's fishing pliers can be doubled as scissors for cutting fishing lines. A safety mechanism prevents the pliers from suddenly springing open.

With more than 10 years of operation, the company has mature manufacturing techniques and strong design capability. Most of the processing work on the company's products is done in-house at George Wang's factory.

The company's products for domestic sales in Taiwan bear its own brand name, whereas those for foreign customers mostly carry their brand names. (JL)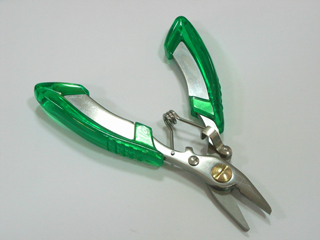 George Wang Industrial Co., Ltd.
No. 14, Kuanghsi Lane, Chinlin Village, Hsiushui Hsiang, Changhua Hsien, Taiwan
Tel: 886-4-768-0188
Fax: 886-4-768-0198
E-mail: 7680188@anet.net.tw
Website: www.georgewang.com.tw