Established in 1988 in Taiwan's central county of Changhua, Tai Min Industrial Co., Ltd. has been a professional manufacturer of cutters and parts for food making machines.

Bolstered by advanced manufacturing machines and seasoned know-how, Tai Min boasts strong production capability and ample capacity, and is now one of Taiwan's most competent OEMs in the line, able to develop cutters and related parts based on customers' special demand.

The company carries out strict quality control on raw materials and production to ensure that cutters and parts are very durable and safe for use in food making machines. Made of high-quality tungsten carbide steel and developed to meet rigid international standards, the company's cutters have been well recognized among foreign buyers all around the world.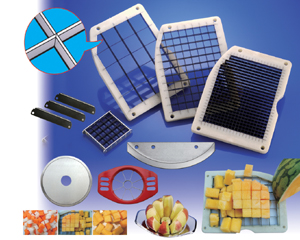 Tai Min Industrial Co., Ltd.
No. 79-15, Mingshan St., Homing Village, Hsiushui Hsiang, Changhua County, Taiwan
Tel: 886-4-769-2313
Fax: 886-4-769-7547
Email: potaimin@ms39.hinet.net