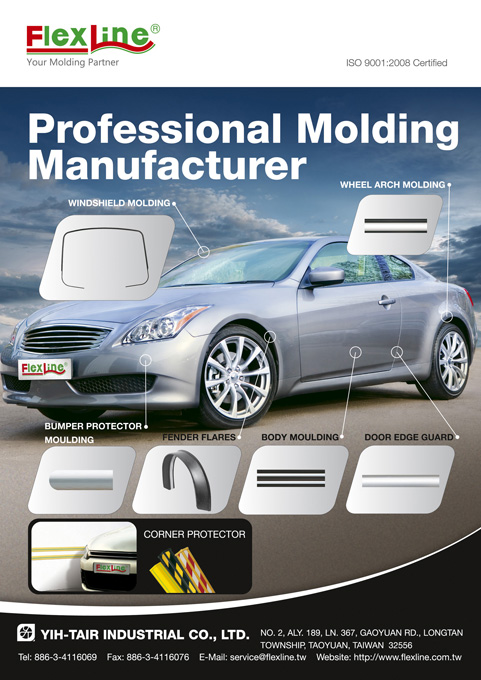 Yih-Tair Industrial Co., Ltd. has enjoyed rapid business growth since its establishment in 1983, and has become a leading player in the international windshield molding market with products that are sold under its own well-known brand "FlexLine" brand.
The ISO 9001-certified developer and producer of windshield moldings, body moldings, corner protectors, and cold-roll forming products, among other items, now offers more than 2,500 windshield molding models, making it one of the most comprehensive suppliers of its kind in the global market.
Yih-Tair is proud of its expertise in many specialty production techniques, including soft and hard plastic extrusion, multicolor/multiplex co-extrusion, metal roll forming, one-operation metal and plastic combination forming, plastic hard foaming extrusion, wood grain extrusion, dispensation prescription of special raw materials, and dispensation prescription (variable section) extrusion technology.
A few years ago the firm installed EPDM (ethylene propylene diene monomer) production lines at its new plant in Longtan, Taoyuan County, in northern Taiwan. Advanced thermoplastic polyolefin (TPO) and polyvinyl chloride (PVC) and EPDM production lines there turn out windshield moldings with integrated three-dimensional (3D) rain channels.
The company has achieved success through constant upgrading and transformation. After becoming the largest supplier of automotive body moldings in Taiwan, it began diversifying into windshield moldings, which have a higher technological threshold, around 10 years ago. It has also developed full in-house capabilities in the fields of corner injection, corner melting, metal insert, and variable extrusion.
Yih-Tair claims to be the only company in Taiwan that is fully able to produce 3D windshield moldings with integrated rain channels, which are used mainly by Japanese carmakers. The development and manufacturing of 3D windshield moldings is challenging, requiring very high technical and engineering capabilities, extensive know-how and experience, and considerable investment in new design systems and manufacturing equipment.
Thanks to their top quality and competitive prices, Yih-Tair's windshield moldings are popular with major aftermarket (AM) auto glass suppliers, auto repair-shop chains, wholesalers, and importers in North America, Europe, and Japan. (QL)
Yih-Tair Industrial Co., Ltd.
No. 2, Alley 189, Lane 367, Gaoyuan Rd., Longtan Township, Taoyuan County, Taiwan 32556
Tel: 886-3-411-6069
Fax: 886-3-411-6076
E-mail: service@flexline.tw
Website: www.flexline.com.tw