Yulon Group of Taiwan, a major carmaker on the island, aims to sell more than 286,500 new cars in Taiwan and China in 2014, up 17% from the previous year, and challenge group annual revenue of more than NT$350 billion (US$11.67 billion), according to Chen Kuo-rong, Yulon's president.


Yulon Group's president Chen Kuo-rong.
Yulon's sales target for both sides of the Taiwan Strait includes 106,500 units to be shipped in Taiwan, by Yulon Nissan Motor Co. (local agent of Nissan, 45,000 units), China Motor Corp. (CMC, local assembler and vendor of Mitsubishi, 46,500 units), Luxgen Motor Co., Ltd. (agent of Yulon's Luxgen, 15,000 units); and 180,000 units in China by Dongfeng Yulon Motor Co., Ltd. (a joint venture between Yulon and Chinese automaker Dongfeng to locally produce and sell Luxgens, 45,000 units) and South East (Fujian) Motor Co., Ltd. (SEM, a joint venture between CMC, Fujian Motor Industrial Group, Mitsubishi to produce and sell Mitsubishi and own SEM brand cars; 135,000 units).
Chen made the statement at Yulon's New Year party attended by senior executives of the 13 group affiliates, including flagship firm Yulon Motor Co. (contract assembler of Yulon Nissan and Luxgen), Yulon Nissan, CMC, Luxgen, Hua-chuang Automobile Information Technical Center Co. Ltd. (HAITEC), TAC Loan International Consultant Product Manager Corp. (auto loan), Tokio Marine Newa Insurance (car insurance), Kian Shen Corp. (auto parts production), Carplus Auto Leasing Corp. (car leasing), Tai Yuen Textile Co., Ltd. (textile), Carnival (men's clothing), Altek Corp. (high-tech).
The president pointed out the global economy is expected to recover this year, while Taiwan's domestic automobile market has replacement purchases to drive overall new-car sales to about 370,000 to 400,000 units. Yulon Group's overall performance in 2014 should improve due to growing automobile markets in Taiwan and China, and group revenue is expected to grow from NT$315 billion (US$10.5 billion) in 2013 to NT$350 billion (US$11.67 billion), he added.
Yulon focuses mainly on business deployment in Taiwan and China, and the total sales volume of the group's Chinese subsidiaries has already outstripped that in Taiwan for a couple of years.
Chen claimed that Yulon has achieved initial success in both contract automobile production and own-brand production and sales on the both sides of the Taiwan Strait. This year, he added, the group will continue to pour more resources into new-model commercialization and development, as well as recruit new employees for production expansion according to market demand.
In Taiwan, Yulon Nissan launched the Nissan Super Sentra four-door sedan in the fourth quarter of 2013, and plans to continue pushing the new Nissan Livina sub-compact  in the first quarter of 2014 to further strengthen its product line-up, also aiming to win a market share of 12% this year.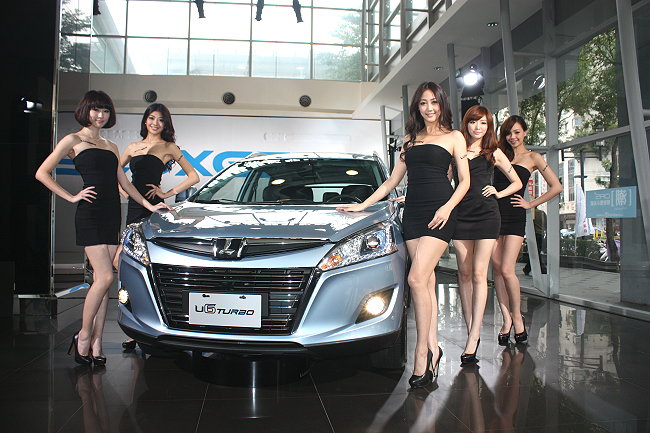 The Luxgen U6 SUV by Yulon.
Luxgen launched three new models in the second half of 2013, and the 2014 sales volume of the own-brand line is expected to double to some 15,000 units, from 7,297 units in 2013. In China, Dongfeng Yulon aims to sell some 45,000 Luxgens this year, compared to about 31,000 units in 2013, with two new models unveiled including the U6 and U7 SUVs.
Yulon Group's 2014 New-car Sales Goal in Taiwan & China

Taiwan Market
(106,500 units)

Yulon Nissan

45,000

CMC

46,500

Luxgen

15,000

China (180,000 units)

Dongfeng Yulon

45,000

SEM

135,000

Source: Yulon