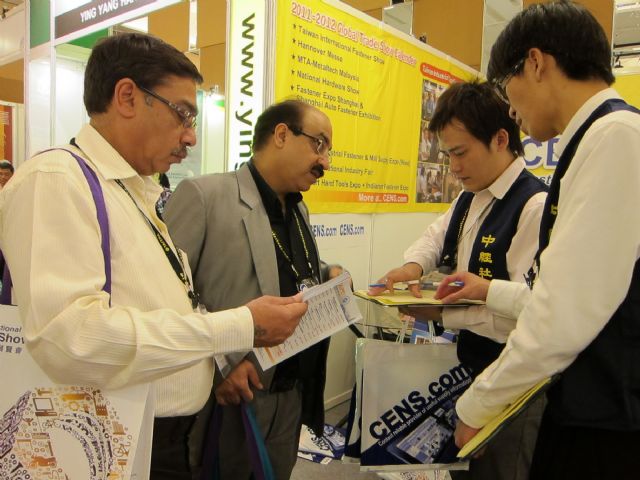 CENS helps with buyers' inquiries at the show.
An established export media from Taiwan, CENS (China Economic News Service) will be present with buyer guides, as well as thoughtful buyer services, to promote Taiwan's high-profile fastener manufacturers at the Taiwan International Fastener Show (TIFS) 2014 to be held April 14-15.
Initiated by the Bureau of Foreign Trade and organized jointly by Taiwan External Trade Development Council, a semi-official trade promoter, and Taiwan Industrial Fastener Institute (TIFI), the TIFS will be in its third staging this year in the brand new exhibition building, Kaohsiung Exhibition Center (KEC), in Taiwan's southern metropolis of Kaohsiung, where over 80% of domestic fasteners are made.
The TIFS 2014 will host 350 exhibitors with some 850 booths in the KEC to emerge as the world's third-largest trade fair for fasteners by booth number, or the largest in Asia.
According to organizers, of the total exhibitors, over 30% are first-timers, including China Steel Corp., the largest steelmaker by size in Taiwan, mostly attracted by the show's high global profile as an effective business platform for fasteners suppliers and buyers all over the world, with the increasing exhibitor number this year to add to diversity of exhibits.
Fasteners makers will continue to make up the majority of the registered exhibitors of TIFS 2014, who include such globally known Taiwanese companies as San Shing Fastech Corp., Taiho Tool Mfg. Co., Ltd., Homn Reen Enterprise Co., Ltd., Ho Hong Works Co., Ltd., Fang Sheng Screws Co., Ltd., Tong Hewi Enterprise Co., Ltd., Chun Yu Works & Co., Ltd., Chun Zu Machinery Industry Co., Ltd., Tycoons Group Enterprise Co., etc.
Meanwhile, TAITRA says that about 20% of the exhibitors are makers of  fastener production machines and related equipment as thermal treatment facilities and sorting machines, including Chun Zu Machinery Industry Co., Ltd., Jern Yao Enterprise Co., Ltd. and San Yung Electric Heat Machine Co., Ltd., coupled with molds and dies makers as An Chiao Molds Co., Ltd.
Many foreign buyers and purchasing organizations from abroad have confirmed participation in the show, including Unione Distributori Italiani Bulloneria (the Italian Union of Fastener Distributors) and the India-based Strategise.in, both of which will send buyer delegations. Furthermore, TAITRA's 50 overseas offices have also been promoting the 3rd TIFS, aiming to solicit over 2,000 buyers to the show.
As a warm-up for TIFS 2014, the Five Region Fastener Association Conference, hosted alternately in China, Hong Kong, Taiwan, Korea and Japan annually, will open on April 13 in Kaohsiung with industry professionals, experts and scholars across East Asia, and is expected to further boost TIFS and Taiwanese fastener industry's global images.
TIFS 2014 may generate business opportunities worth US$380 million to fuel stronger growth of Taiwan's fastener exports this year than last year, when export volume hit a record high of 1.46 million tonnes.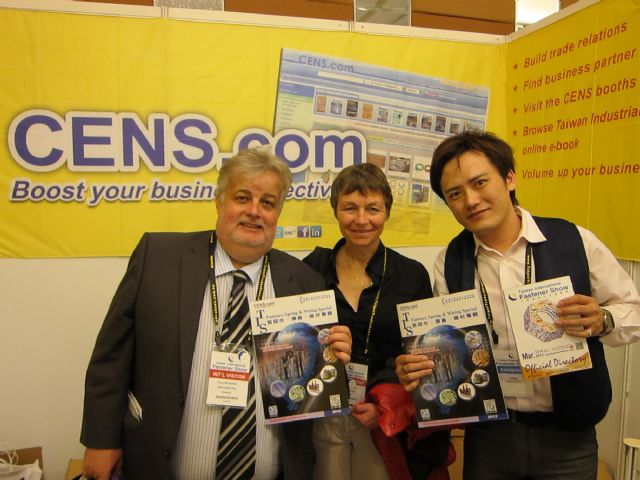 CENS's TIS proves popular among foreign buyers at TIFS 2012.
Ever since TIFS was inaugurated in 2010, CENS has been a regular participant to help domestic suppliers promote exports by circulating its publications, including
Taiwan Industrial Suppliers (TIS) and CENS Hardware
. Featuring a large number of Taiwanese suppliers of fasteners, industrial parts and related equipment, 
TIS 
is particularly remarked by buyers as a useful tool for accessing Taiwan's fastener industry.
Buyers will see CENS at the booth A2218 at TIFS 2014, where comprehensive buyer guides, including CENS Global Pass, multilingual e-book content, and various real-time business matchmaking services will be available to make their participation worthwhile. (SC)