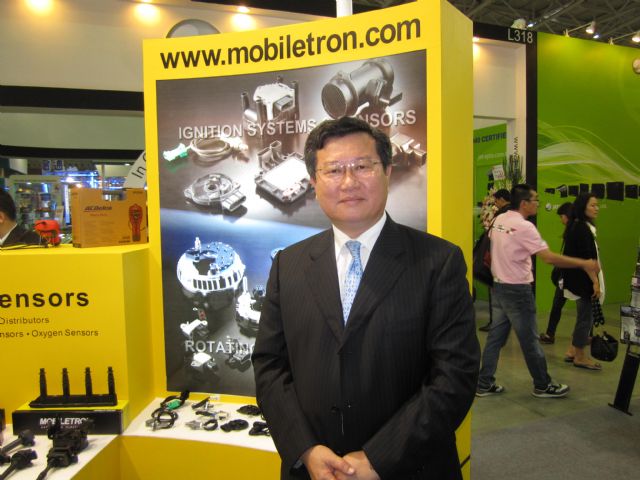 Mobiletron chairman Kim Tsai.
Mobiletron Electronics Co., Ltd., a major maker of automotive-electronic systems and parts as well as power-tool vendor in Taiwan, and a Taiwan listed firm, recently announced plans to diversify into different fields this year.
Kim Tsai, Mobiletron's chairman, said that his company's automotive-electronics business division will split into two: the electronic/electrical power module and vehicle safety system, with the company also stepping into new fields as energy, electric vehicle (EV) and engine parts businesses.
The Taiwanese company also plans to find  land near Hangzhou, Zhejiang Province of China, to set up a factory whose production capacity will double that of Mobiletron's existing Chinese plant in Ningbo, Jiangsu province. Tsai said that the planned Chinese factory is to focus on production of automotive-electronic products initially.
The firma also plans to move towards overseas sales-channel integration. According to Tsai, Mobiletron plans to merge four overseas distribution subsidiaries, including Mobiletron U.K., Mobiletron Brazil, and Regitar and Durofix of the U.S., into one new company scheduled to go public in the future.
In February, Mobiletron registered consolidated revenue of NT$207 million (US$6.9 million), up 54% year on year (YoY). Thanks to harsh weather in North America recently that has caused more car accidents to result in stronger auto-parts demand, the company's sales in the region have been smooth in recent months.
In Europe, Tsai said, Mobiletron has been aggressively trying to win more original equipment service (OES) electronic parts orders from automakers and tier-1 parts vendors there. Several international customers, including those in Germany, France, and Italy, have become Mobiletron's major customers by placing increasingly big-ticket orders. Mobiletron is a major supplier of voltage regulators, electronic ignition modules, ignition coils, and various types of sensors in the international aftermarket.
In China, Mobiletron is an OE (original equipment) supplier of tire pressure monitoring systems (TPMS) to many Chinese automakers, including South East Motor (SEM), Chery, and Lifan etc.. The Taiwanese company also supplies vehicle-safety products including TPMS, vehicle cameras, intelligent reverse imaging systems, Around View Monitor (AVM) etc., which are being tested and approved by about 10 other Chinese automakers.
Mobiletron said that it expects the number of its TPMS customers in China to increase to six by the end of the first quarter from three, with its other vehicle safety systems possibly to be supplied to more automakers this year.
Tsai said he is very optimistic about future business development of Mobiletron, especially that National Highway Traffic Safety Administration (NHTSA) of the U.S. is mandating all new cars sold in the U.S. to be equipped with rearview visibility system by mid-2018.