In its 40th anniversary this year, China Economic News Service (CENS), founded in 1974 and now a leading Taiwanese export promoter, participated in the opening of the Taiwan International Fastener Show (TIFS) 2014 to witness the island's only specialized exhibition for the fastener industry and the world's third-largest, or the largest in Asia, by size.

TIFS 2014 celebrated its third anniversary April 14-15 in Kaohsiung City, southern Taiwan, at the Kaohsiung Exhibition Center as the first exhibition held in the brand new venue, and hosted 350 exhibitors occupying 850 booths to start a new chapter, with the show starting in  2010 in the Kaohsiung Arena to accommodate only around 190 exhibitors.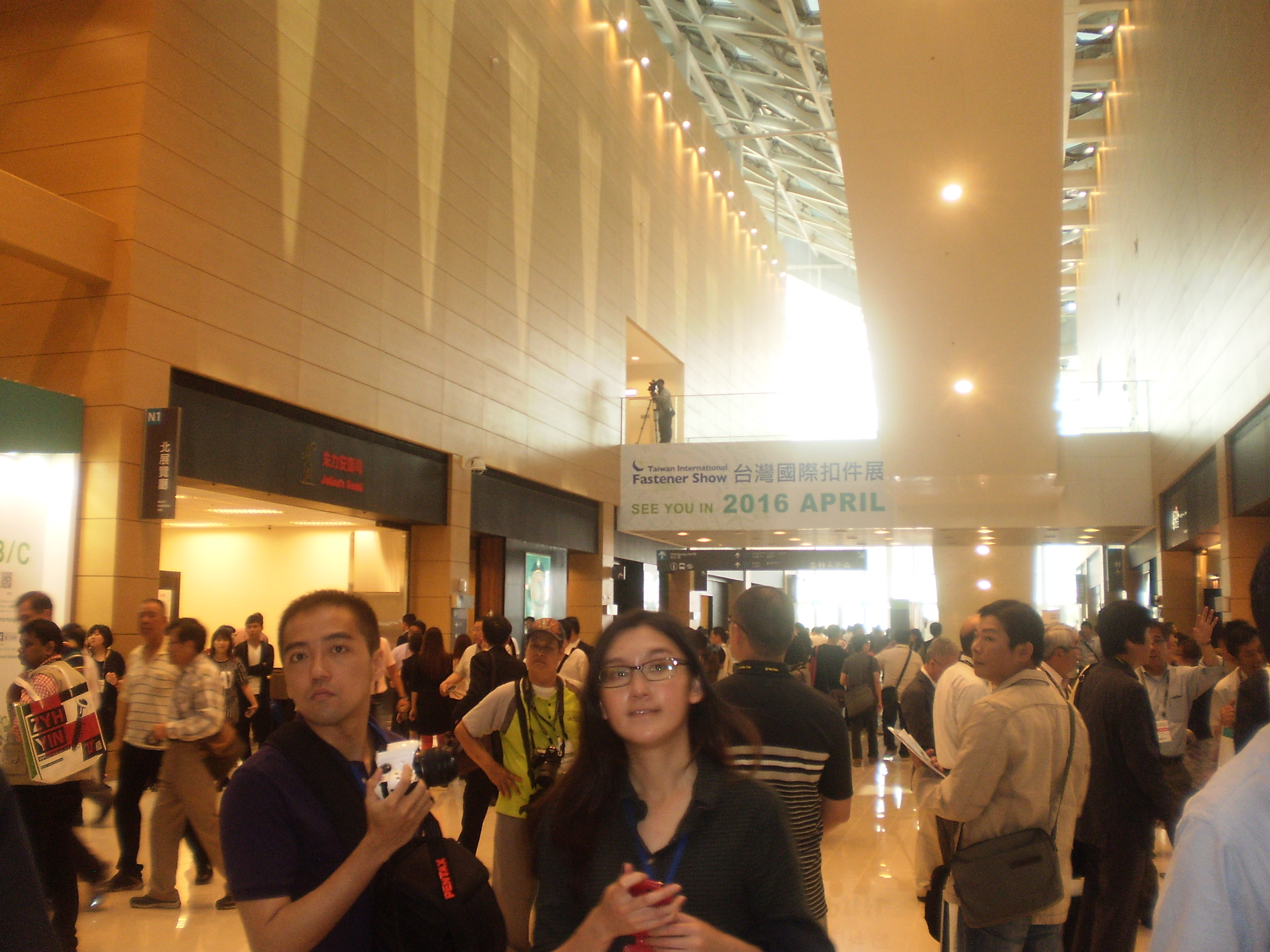 Hundreds of officials, personalities and reporters at joint opening ceremony of TIFS 2014 and Kaohsiung Exhibition Center.
Organized by the Bureau of Foreign Trade of the Ministry of Economic Affairs, co-organized by the Kaohsiung City Government, and staged by the Taiwan External Trade Development Council (TAITRA) and Taiwan Industrial Fasteners Institute (TIFI), the two-day biennial show featured not just 103% more exhibitors than the 2012 edition, but also a grand joint opening ceremony for itself and the Kaohsiung Exhibition Center, with Taiwan's Vice President Wu Den-yih, Minister of Economic Affairs Chang Chia-juch, TAITRA Chairman Wang Chih-kang, and Kaohsiung Mayor Chen Chu, among other personalities and officials in attendance.
Fueled by optimism for this year's economy, many of Taiwan's fastener companies expanded presence at the show, where exhibits covered fastener manufacturing services, fastener manufacturing equipment, fastener tools, meters and instruments, and steel material supplies.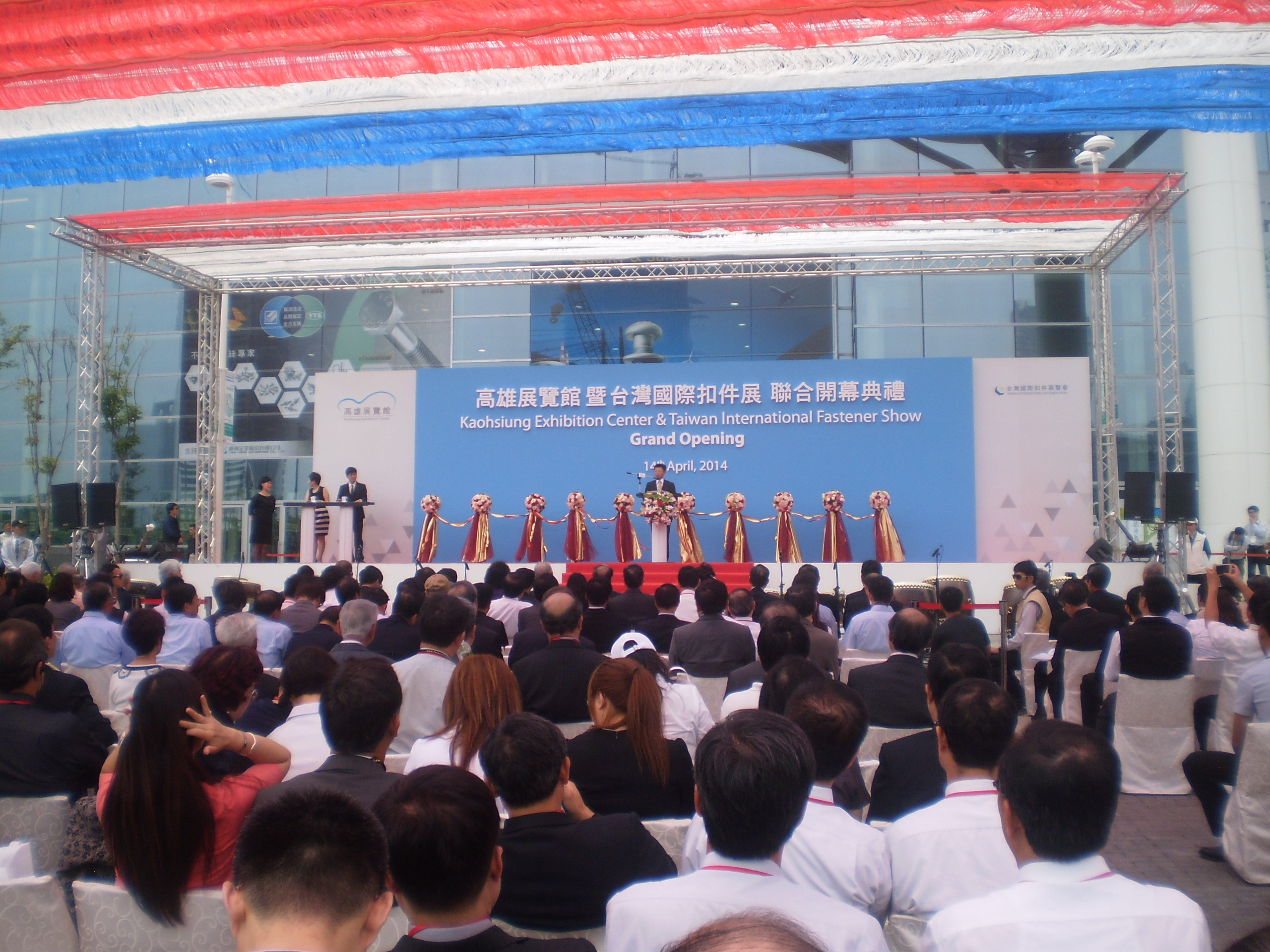 Hundreds of officials, personalities and reporters at joint opening ceremony of TIFS 2014 and Kaohsiung Exhibition Center.
Over 20,000 visitors and buyers attended the show, with nearly 2,000 from abroad, up 10.2% from 2012, according to statistics compiled by the organizers. Japan, China, the U.S., India, Germany, Malaysia, Hong Kong, S. Korea, Vietnam and Indonesia were the top-10 buyer nations sequentially.
Meanwhile, the organizers also arranged nearly 300 face-to-face procurement meetings between domestic exhibitors and foreign buyers, which are expected to generate business opportunities worth US$27 million. The organizer reported the fair as a rousing success, based on its survey showing over 90% of buyers polled being quite satisfied with exceptional quality of exhibitors' products and organization, while over 85% of exhibitors expressed high willingness to return in the next edition.
Aside from Taiwan's global reputation for manufacturing fasteners, TIFI chairman Joe Chen indicated at the opening ceremony that the current success of the show is also partly attributable to its location: "We insisted then the show must be held in Kaohsiung, given that over 70% of Taiwan's fastener exports a year are generated in northern Kaohsiung and southern Tainan. Such decision enables foreign buyers to enjoy convenient factory tours, making TIFS the only show offering the feature in the world."
Chen added that this year's TIFS boasted 850 booths, surging from 260 in the first edition and 400 in 2012, mostly thanks to not just governmental support, but also every participant's patronage.
Ever since TIFS was inaugurated in 2010, CENS has been a regular participant to help domestic suppliers promote export by circulating its buyer guides, including
Taiwan Industrial Suppliers (TIS) and CENS Hardware
. This year CENS occupied booth A2218 to also provide various real-time business matchmaking services to international buyers.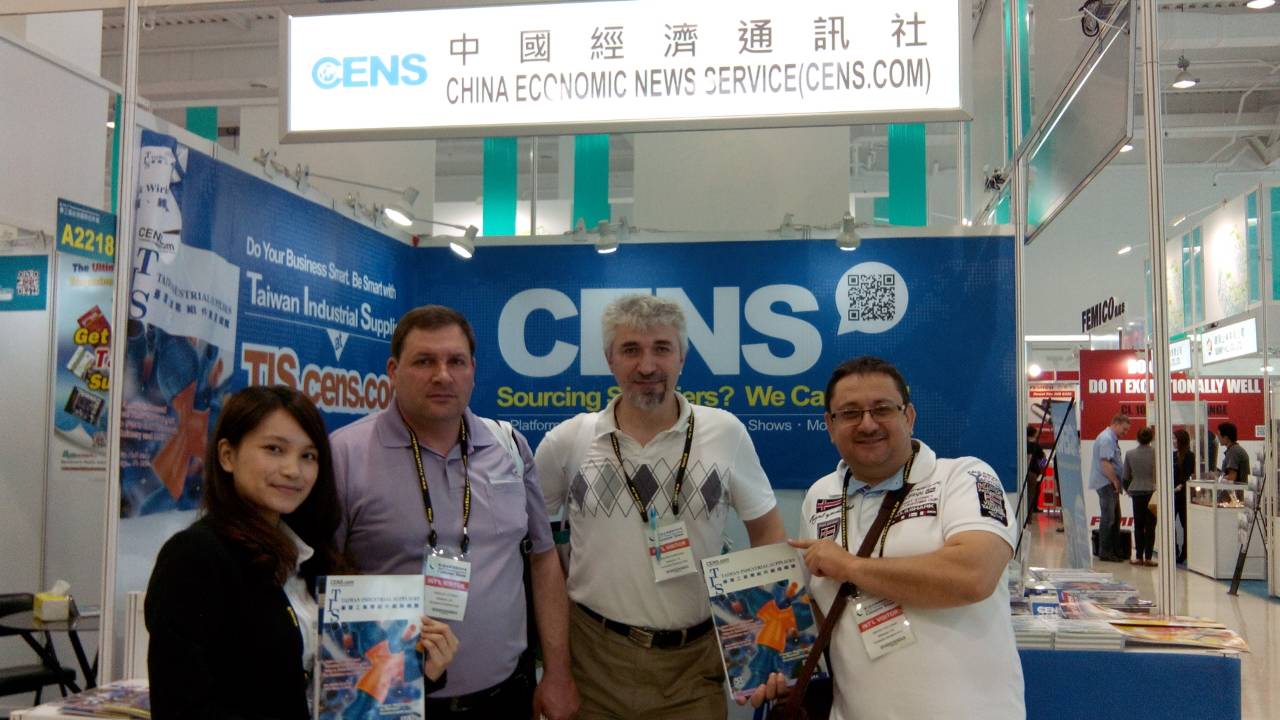 Foreign buyers at CENS booth at TIFS 2014.
Moreover, CENS reporters also interviewed notable exhibitors about products and business strategies, to make the most of its efforts to help Taiwanese fastener suppliers boost global exposure. (SC)