Founded in 1976, Machan International Co., Ltd. has developed into one of Taiwan's top-end suppliers of tool storage products and hand tools.

Machan's product portfolio is centered on tool storage products, including tool chests, roller cabinets, service carts, and work benches and stations, along with magnetic parts for display stands, related accessories, and aviation-grade tools, sockets, impact sockets, wrenches, screwdrivers, pliers, hammers, and auto repair tools. The company's products, some marketed under its own "BOXO" brand, are highly sought after worldwide, particularly in Holland and North European countries such as Finland and Sweden.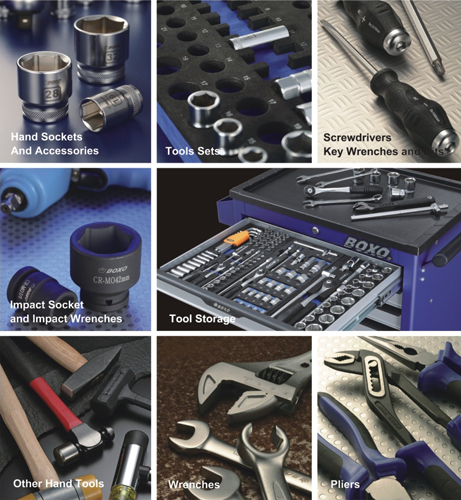 One of Machan's most attractive features is the high quality of its tools, which are available in a variety of combinations. The firm's sockets, to name just one product category, all undergo special silver matte finishing for a better visual experience and easier reading of the diameter sizes shown on the wear-resistant surface.
Another factor in the success of "BOXO"-brand tool storage products is their efficient, effective tool organization system, which is achieved by the use of Machan's unique two-toned tool trays of EVA (ethylene vinyl acetate) foam sheets. The trays, which are resistant to oil and chemical corrosion, hold tools and accessories firmly; and the two-tone design, with the tray top surface blacked and indentations blued, enhances users' awareness of the failure to place tools back on the trays.
After being designated as a supplier for factories in Poland by Opel, Toyota, and Ferrari, Machan, which enjoys ISO9001 and ISO9002 certification, has developed various collections of specialty tools coupled with related storage products for each car series, thereby bolstering its presence in the automotive repair and maintenance sector. (SC)