AU Optronics Corp. (AUO), the second-largest maker of thin film transistor-liquid crystal display (TFT-LCD) panels in Taiwan, showcased its latest product innovations, including those for automotive and medical-equipment applications, at the recent Display Week 2014. Organized by SID (Society for Information Display), Display Week is the largest professional display exhibition in the United States. This year, it was held in San Diego from June 3 to 5.

With a focus on ultra-high-resolution technologies for mobile solutions and innovative display applications, AUO debuted a whole series of car displays, from seven to 12.3 inches in size, for all kinds of in-vehicle infotainment systems, as well as high-value-added applications including a 21.3-inch AHVA (Advanced Hyper-Viewing Angle) display for high-end medical diagnostic use and fingerprint sensing technology employing a panel that is both large and thin.

AUO's exhibition highlights also included an 8-inch ultra-high-resolution WQXGA (1600x2560 pix) panel for tablets using amorphous silicon (a-Si) TFT process technology, a 5.5-inch ultra-high-resolution WQHD (1440x2560) LTPS (Low Temperature Poly-silicon) panel for smartphones, 15.6-inch Full HD touch solutions employing an oTP (On-cell Touch Panel), the world's first 1.6-inch ultra-thin in-cell touch active matrix organic light-emitting diode (AMOLED) panel for wearable devices, and a 5-inch flexible AMOLED panel.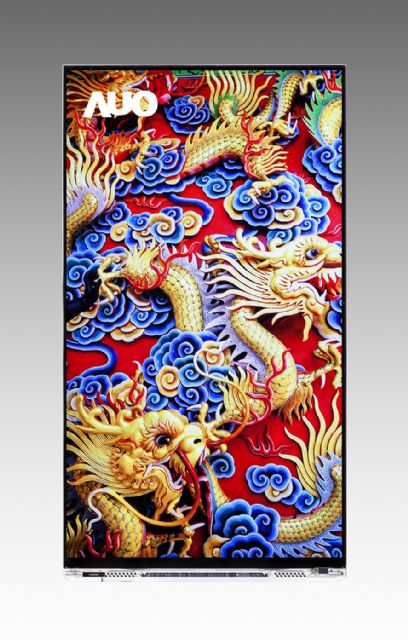 AUO's WQHD smartphone displays have a resolution as high as 1440x2560 pixels, capable of presenting the most exquisite detail and depth. (photo courtesy AUO)
The Taiwanese panel supplier took advantage of the show to present its complete portfolio of car displays, including a 7-inch capacitive touch display, 8-inch high-brightness car display, 9-inch portrait car display for center consoles, and 12.3-inch high-resolution cluster display. The panels feature high resolution, wide viewing angle, high color saturation, high temperature tolerance, low reflection, and standardized designs for all kinds of intelligent vehicle display systems. For lovers of the outdoors,  a 6.1-inch oTP for professional navigation devices was also on show. As demand grows for the connection of portable devices with vehicle systems, AUO has proactively integrated touch panels into the development of all sorts of innovative car display applications for audio-visual entertainment, communications, and safety purposes.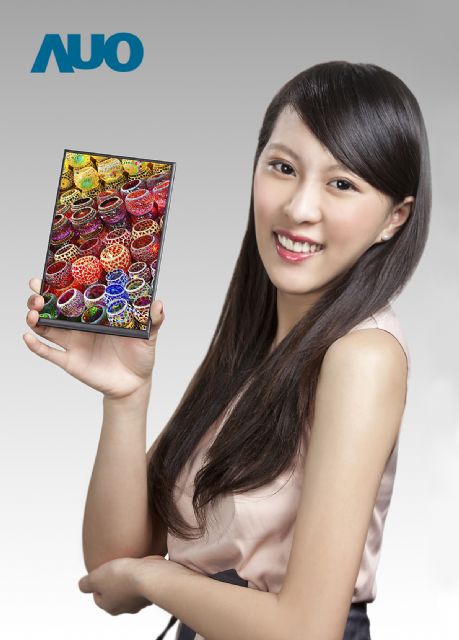 AUO debuted its 8-inch ultra -high-resolution WQXGA panel for tablets, using the amorphous silicon TFT process to achieve a resolution of 377ppi. (photo courtesy AUO)
The firm also showcased a 21.3-inch, 3-mega-pixel (2048×RGB×1536) high resolution AHVA panel for medical use. The panel has high brightness, low color shift, wide viewing angle, and true 10-bit color depth, resulting in finer images, increasing diagnostic precision for medical personnel, and meeting the rigid requirements of high-end medical markets. In the field of security applications, AUO exhibited a fingerprint-sensing technology with a resolution higher than 500ppi, meeting ISO standards. AUO claimed that it employed its specialized glass panel processing technology to trim the panel to a thickness of just 1.8 mm, overcoming common semiconductor and optical sensing technology problems to produce sensors that are both large and thin in design.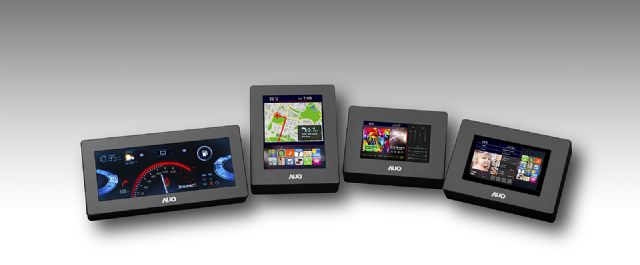 AUO showcased the world's first thin In-cell Touch AMOLED panel, conforming to the future trend toward wearable-device technology. (photo courtesy AUO)
AUO's 5.5-inch WQHD LTPS panel for smartphones, which was awarded the 2014 SID Best in Show prize, boasts a pixel density of 538ppi, providing exquisite image detail and depth. The panel's narrow border design results in a mere 0.7 mm width from display area to panel border, substantially increasing the viewing area.
To keep at the head of current trends, AUO presented the world's first 1.6-inch in-cell touch AMOLED panel for wearable devices at SID. The panel is only 0.5 mm thick and shaves the use of power, making it a preferred choice for wearable devices. The company also exhibited a 5-inch flexible AMOLED panel incorporating plastic substrate and thin film encapsulation technology, providing a minimum bending radius of less than 1cm. The panel is only 0.2 mm thick, creating more possibilities for future wearable device applications.
During SID Display Week, AUO presented 19 conference papers on various types of technology, including inkjet printing technology for 65-inch full HD AMOLED TV displays.