Event is Asia's No. 2 and globally No. 3 by booth number
By STEVE CHUANG

In its 40th anniversary this year, China Economic News Service (CENS), founded in 1974 and now a leading Taiwanese export promoter, participated in the opening of the Taiwan International Fastener Show (TIFS) 2014 to witness the island's only specialized exhibition for the fastener industry and the world's third-largest, or the largest in Asia, by size.

TIFS 2014 celebrated its third anniversary April 14-15 in Kaohsiung City, southern Taiwan, at the Kaohsiung Exhibition Center as the first exhibition held in the brand new venue, and hosted 350 exhibitors occupying 850 booths to start a new chapter, with the show starting in 2010 in the Kaohsiung Arena to accommodate only around 190 exhibitors.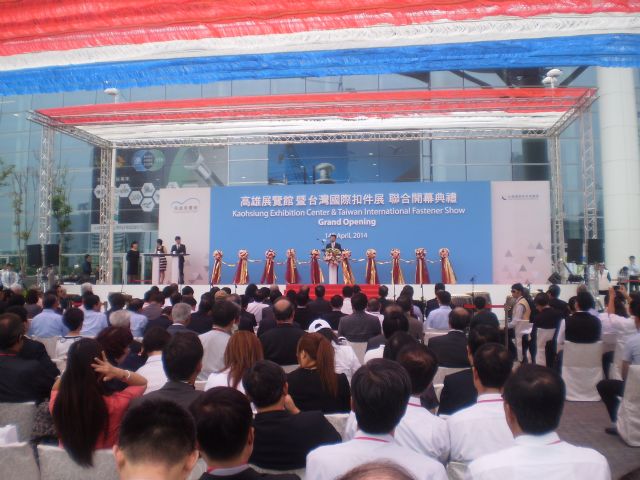 Hundreds of officials, personalities and reporters at joint opening ceremony of TIFS 2014 and Kaohsiung Exhibition Center.
Organized by the Bureau of Foreign Trade of the Ministry of Economic Affairs, co-organized by the Kaohsiung City Government, and staged by the Taiwan External Trade Development Council (TAITRA) and Taiwan Industrial Fasteners Institute (TIFI), the two-day biennial show featured not just 103% more exhibitors than the 2012 edition, but also a grand joint opening ceremony for itself and the Kaohsiung Exhibition Center, with Taiwan's Vice President Wu Den-yih, Minister of Economic Affairs Chang Chia-juch, TAITRA Chairman Wang Chih-kang, and Kaohsiung Mayor Chen Chu, among other personalities and officials in attendance.
Fueled by optimism for this year's economy, many of Taiwan's fastener companies expanded presence at the show, where exhibits covered fastener manufacturing services, fastener manufacturing equipment, fastener tools, meters and instruments, and steel material supplies.
Over 20,000 visitors and buyers attended the show, with nearly 2,000 from abroad, up 10.2% from 2012, according to statistics compiled by the organizers. Japan, China, the U.S., India, Germany, Malaysia, Hong Kong, S. Korea, Vietnam and Indonesia were the top-10 buyer nations sequentially.
Meanwhile, the organizers also arranged nearly 300 face-to-face procurement meetings between domestic exhibitors and foreign buyers, which are expected to generate business opportunities worth US$27 million. The organizer reported the fair as a rousing success, based on its survey showing over 90% of buyers polled being quite satisfied with exceptional quality of exhibitors' products and organization, while over 85% of exhibitors expressed high willingness to return in the next edition.
Aside from Taiwan's global reputation for manufacturing fasteners, TIFI chairman Joe Chen indicated at the opening ceremony that the current success of the show is also partly attributable to its location: "We insisted then the show must be held in Kaohsiung, given that over 70% of Taiwan's fastener exports a year are generated in northern Kaohsiung and southern Tainan. Such decision enables foreign buyers to enjoy convenient factory tours, making TIFS the only show offering the feature in the world."
Chen added that this year's TIFS boasted 850 booths, surging from 260 in the first edition and 400 in 2012, mostly thanks to not just governmental support, but also every participant's patronage.
Amid TIFS 2014's laudable achievements, Taiwanese exhibitors generally expressed optimism about the future of the exhibition, and their business prospects this year.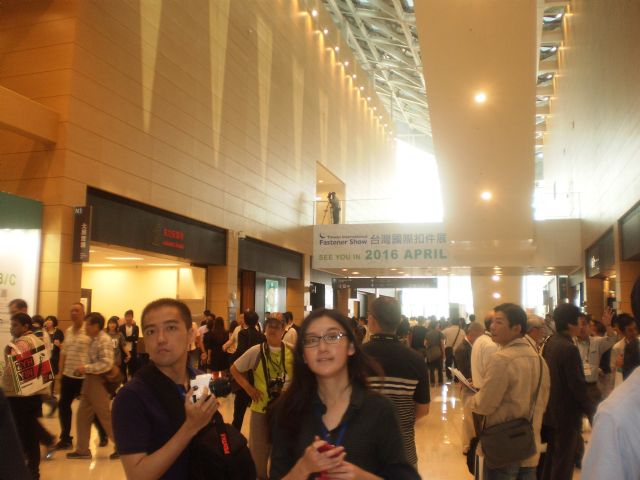 More than 20,000 visitors and buyers visit TIFS 2014.
Sheh
Fung
In an exclusive interview with CENS, Kent Chen, general manager of Sheh Fung Screws Company, said gleefully on the last day of the show that world-caliber exhibition facilities helped boost TIFS' image as a very important meeting place for Taiwanese fastener suppliers and global buyers, while quality of visitors is also higher than in the past.
Chen furthered that the show's resounding success was attributable partly to the brand new exhibition building, which rivals those in Germany in terms of interior design and hardware quality, and partly to its location in Kaohsiung, which allows foreign buyers closer look at Taiwan's fastener industry, whose output is generated in and around the city. "I am very optimistic about TIFS's future, and willing to invest more in participating in the show to help contribute to development of local economy and the industry, given Kaohsiung is home to most Taiwanese fastener makers."
The general manager placed ample faith in the potential of TIFS as a promotional platform, as Sheh Fung spent considerably setting up a two-story booth with plenty of wow factor to captivate each passing visitor. "By setting up this spectacular booth to showcase our quality, highly-value fasteners, we look to establish a higher profile among buyers at the show, and we have also arranged factory tours for interested buyers, which is an effective, efficient way for new customers to know us better," said Chen.
Sheh Fung's general manager, Kent Chen, emphasizes that Taiwanese fastener makers should upgrade management to digitization.
As to outlook this year, Chen reported that Sheh Fung is expected to recover soon in the rest of the year, after suffering a decline in the first quarter in the wake of the government's increasing restrictions on electroplating and processing industrial wastewater, and  mandatory shutdowns of illegal surface treatment firms to impact the industry's supply chain. Such upbeat outlook is also based on the brightening global economy, particularly that in Europe, which contributes 35% to the firm's revenue as the biggest source following the U.S. and Australia.
Industry Leader
To say that Sheh Fung, already ISO-9001, QC-080000, ISO 14001 and CE certified, is an industry-leading maker is not overstated.
Founded in 1978, Sheh Fung was first ranked among Taiwan's top-1,000 enterprises by a local market researcher in 1989, and then the No.707 in 1992. The locally-listed firm has won national awards many times for outstanding contribution to the local economy and the sector, also globally known as a top-end supplier of stainless steel screws, chipboard screws, decking screws, drywall screws, self-drilling screws, self-tapping screws and Kaitex coating screws, mainly for construction, commanding 0.5% share of the global market for fasteners.
In addition to automating production, the company is also notable for thoroughly applying ERP (Enterprise Resource Planning) in daily operations, to effectively enhance production efficiency, lower defects and shorten lead time.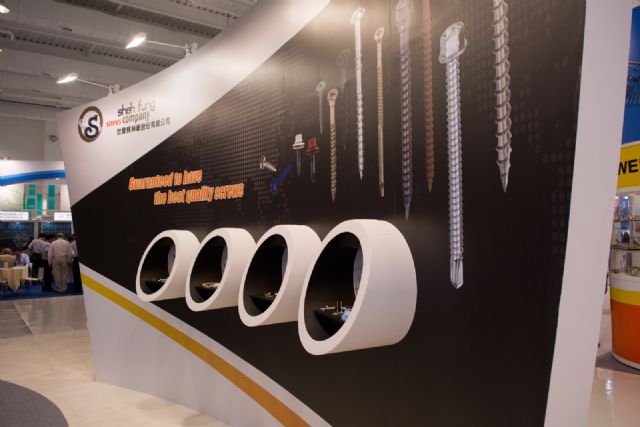 Sheh Fung showcases various screws for construction.
"Applying ERP is part of Sheh Fung's effort to realize digital and information management for improved efficiency. Despite being costly, the system has paid off to greatly enhance management efficiency to generate more profits, with our annual revenue showing flat growth last year but the gross profit rate having tripled," said Chen.
The general manager went on to say that Taiwanese traditional manufacturers must try to upgrade by optimizing operation efficiency through more efficient, reasonable management. By applying ERP, Chen said, "Sheh Fung is leading the way for our contract manufacturers to follow to further leverage the industry's overall competitiveness."
Chen confirmed that while constructing a factory in response to brighter market outlook this year, his company plans to step up integrating production, including electroplating and coating, and invest more in wastewater processing equipment, raise self-supply ratio and secure sustainable development. Such effort enables Sheh Fung to transform from a contract manufacturer into a service-oriented manufacturing solution provider.
Chong Cheng
Also giving thumbs up to TIFS 2014's bigger space and better exhibition facilities to help draw more visitors, Jason Yu, vice president of the production department of Chong Cheng Fastener Corp., and Kenny Hsu, manager of Sales Division 2, noted in a joint interview that their company's enhanced participation in the show was worthwhile.
Hsu said, "During the show, we have met quite a few potential buyers from abroad, such as Europe and Brazil. In addition to the larger size to present a more complete line of exhibits, this year's show achieved a notably growing turnout also thanks to being scheduled following the Taipei AMPA (30th Taipei Auto Parts & Accessories Show held April 9-12)."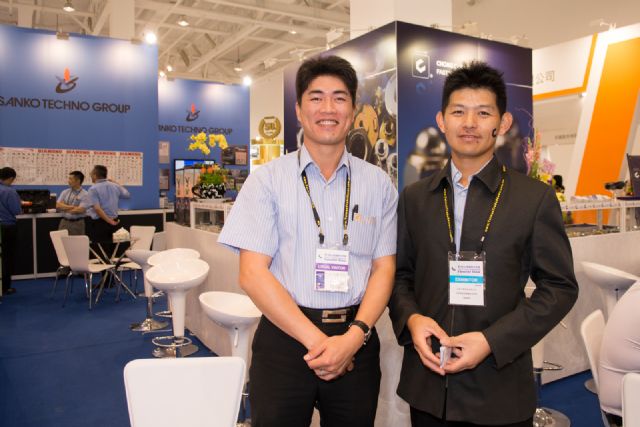 Chong Cheng's vice president of production, Jason Yu (left), and sales manager, Kenny Hsu
Chong Cheng's open-space booth was located near one of the two entrances of the North Hall, hence was well trafficked by buyers interested in its high-quality fasteners, including conical washer nuts, flange weld nuts, metal insert lock nuts, cap nuts, flare nuts, etc.
On its goal as exhibitor at the show, Hsu commented, "Chong Cheng would like to strengthen its image as a truly capable maker with consummate production techniques and a TS16949 certificate, as well as impress buyers with our special fasteners, such as lock nuts and conical washer nuts."
"Chong Cheng's fasteners are targeted at mainly three segments: automotive, construction and industry, with construction fasteners being our largest revenue source, and auto fasteners showing a notable shipment growth in recent years." "Participating in TIFS 2014 helps to enhance our manufacturer image," the vice president said, and the company aims to explore more new customers from all over the world.
Taiwan's First Automated Warehousing
Few would question that Chong Cheng, established in 1989, is Taiwan's first fastener maker to introduce automated warehousing equipment, which not only greatly shortens lead time, but also helps build its global profile as a competent, reliable OEM (original equipment manufacturer).
With global buyers increasingly prone to rush orders to avoid over-stocking, Yu said, to better satisfy customers with timely delivery and rapid distribution, the company will add six new automated warehousing lines this year, along with 4-5 machines for making nuts and bolts up to M30 in size. "To accommodate the new equipment, we will expand our factory in the meantime."
Chong Cheng operates a modern factory spread over 15,000 square meters in Tainan City, southern Taiwan, to turn out around 600 tonnes of various fasteners of different materials, such as carbon steel, stainless steel, copper and aluminum, a month, all meeting DIN986, DIN1587 and DIN917 standards typically expected by buyers from North America and Europe.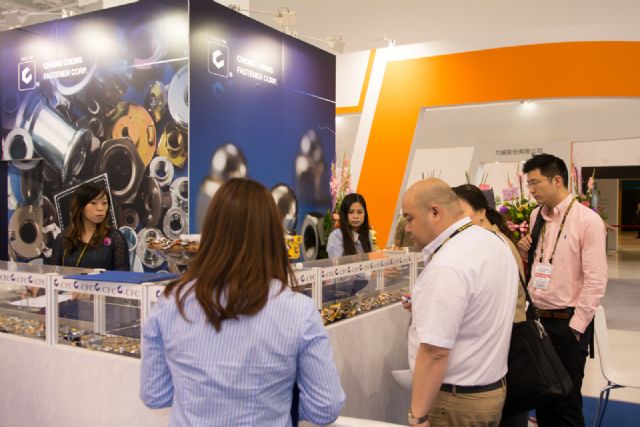 Buyers look at Chong Cheng's high-quality fasteners.
Bolstered by strong customer loyalty and a wide customer base, Yu indicated, Chong Cheng scored a 15% surge in revenue last year, mainly driven by soaring shipment of auto fasteners to Japan, Europe and the U.S., and achieved its revenue goal in the first quarter of this year to shrug off the impact of a supply-chain breakdown caused by a wave of mandatory shutdowns of local, illegal surface treatment firms in Taiwan.
"The supply-chain problem didn't hamper Chong Cheng's growth just because stainless steel fasteners now make up over 40% of the overall shipment, and automotive fasteners, which are not surface treated, have notably soared over the past few years," explained Yu. With its shipment structure increasingly consisting of high-margin fasteners, Yu said that the company is quite confident of better performance this year.
Ray Fu
Witnessing significantly increasing foreign buyers from Europe, India and the Middle East, Amy Yu, vice president of Ray Fu Enterprise Co., Ltd., complimented TIFS 2014 as a main growth propeller for Taiwan's fastener industry.
"TIFS has increasing influence over the global industry following years of development, reflected by more quality buyers from all over the world showing up here. We are glad to have met many potential buyers, especially those from Germany, Czech and other European countries, at this year's show, because Europe is our biggest overseas market," said Yu.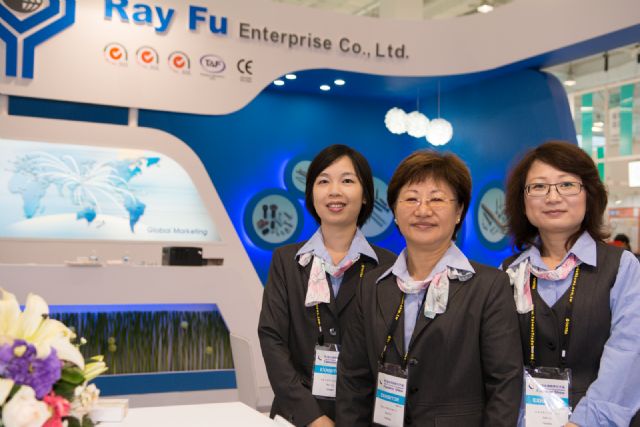 Ray Fu's vice president, Amy Yu (center), lauds TIFS 2014.
The good news, she went on, was that most potential clients showed high interest in the factory tours Ray Fu had arranged, which would likely enhance business chances to drive the company's performance in the years to come.
During the show, the company's booth was usually full of foreign buyers, either talking with sales representatives or browsing products on display, to continuously generate positive atmosphere.
Among Ray Fu's exhibits, covering self-tapping screws, furniture screws, hex-head bolts, carriage bolts, hex nylon insert nuts, flange nuts, wing nuts, anchors, studs, pins, thread rods, rivets and so forth, the pneumatic nail gun with a long plastic collected coils attracted the most inquiries, said Yu, who showed briefly  the nailer, mainly for roofing, with a wider nail structure to effectively avoid jamming, and improved structural design for ease of use.
"The nail gun was completed last year and has just been mass produced this year as a brand new product, whose launch is expected to widen Ray Fu's product portfolio to meet the needs of differ buyers to drive growth in the short term," said Yu.
A Quality-driven Supplier
Founded in 2000, Ray Fu Enterprise Co. is a quality-driven supplier of fasteners well recognized among buyers from Europe, the U.S., Australia, New Zealand, Japan, and the Middle East.
In continuous pursuit of excellence, the company, already certified by ISO9001:2008, ISO14001:2004, and ISO/TS16949:2002 many years ago, had just acquired CE EN14592 certification last June, hence moving a step closer to being a top-end maker in the increasingly challenging business.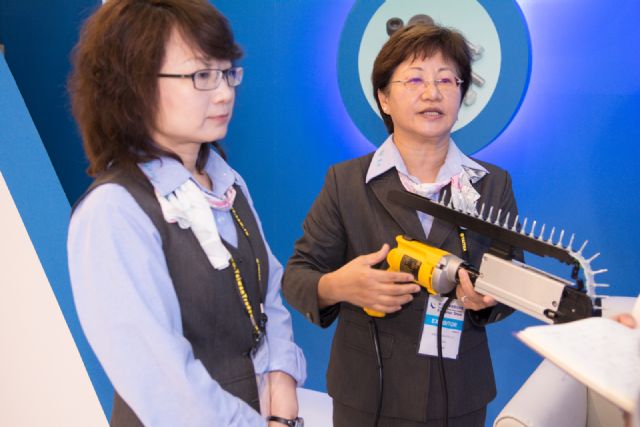 Yu introduces Ray Fu's brand new nail gun.
Ever since its inception, the firm has invested heavily in QC test equipment, ensuring strict control of manufacturing processes. In addition, the improvement of management efficiency and insistence on providing high-value-added products have won Ray Fu solid reputation in the global marketplace and help it create mutually-beneficial relationships with customers. Moreover, the company boasts a QC lab accredited by the Taiwan Accreditation Foundation (TAF) and certified to CE DIN EN 14566 standards.
"We chalked up around a 20% revenue growth last year, when Taiwan's fastener industry saw export volume hit a record high. Despite sluggish demand dampening our performance in the first quarter, we expect it to soon shoot up in the rest of this year," said Yu.
Fastener Jamher
Giving high credit to TIFS 2014's improved organization and floor layout, Linda Lin, sales manager of Fastener Jamher Taiwan Inc., agreed with most Taiwanese exhibitors that the exhibition has actually set a very significant milestone for both Kaohsiung City and the industry's development.
"We have talked with several potential buyers who mostly recognize Fastener Jamher's superior production capability and outstanding quality. What encourages us is that some of them have requested visits to our factory to look at production management and quality control," said Lin.
Lin pointed out that Fastener Jamher's profile as a world-level, trustworthy manufacturer of auto fasteners drew new clients at the show. "Fastener Jamher is TS16949 certified and offers exceptional quality that is accepted by carmakers. We are also capable of handling custom orders and wide-ranging materials in production to meet customers' various demand," said Lin.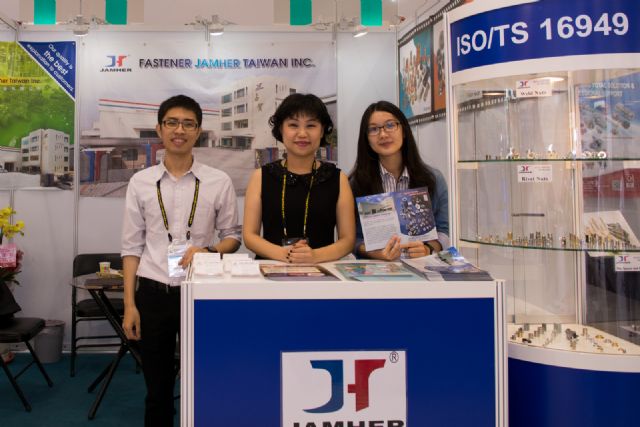 Fastener Jamher's sales manager, Linda Lin (center), approves of TIFS 2014's improved organization and floor layout.
Specialty Fasteners
Founded in 1999, Fastener Jamher particularly takes pride of its well-honed capability for turning out specialty fasteners, mainly for automotive applications, on a joint development basis with customers.
"Fastener Jamher achieved a 15% increase in order value last year, and a robust growth in the first quarter of this year, largely thanks to new specialty fasteners we developed jointly with customers. Presently, we have built a very large customer base of specialty fasteners and earned good reputation for our rich knowledge about materials, strong production and R&D capability," said Lin.
Besides specialty fasteners, the company also supplies hex flange nuts, weld nuts, rivet nuts, spacers, nylon insert nuts, T-shaped nuts, round nuts, bushings and rollers, all of which are available in different materials, such as carbon steel, stainless steel, brass, aluminum and A286 steel, and have been exported to Europe, Latin America, Southeastern Asia, Middle East and North America.
With strained supply of electroplating and surface treating services in Taiwan, Lin admitted to delivery interruptions to some extent. However, she emphasized, "Fastener Jamher well understands that stricter environmental regulations will benefit the industry as a whole in the long run, and therefore insists on working only with legal electroplating firms."
Believing the abovementioned impact on Fastener Jamher will be kept to a minimum due to its persistent devotion to environmental protection, Lin stated, "We have good reasons to expect banner performance this year, especially when market climates are increasingly bright." To maintain its growth, the manager added, the company will keep working with customers on joint R&D and introduce new equipment this year.
CENS's Presence in Fastener Sector Growing
Ever since TIFS was inaugurated in 2010, CENS has been a regular participant to help domestic suppliers promote export by circulating its buyer guides, including
Taiwan Industrial Suppliers (TIS) and CENS Hardware
. This year CENS occupied booth A2218 to also provide various real-time business matchmaking services to international buyers.
Moreover, CENS reporters also interviewed notable exhibitors about products and business strategies, to make the most of its efforts to help Taiwanese fastener suppliers boost global exposure.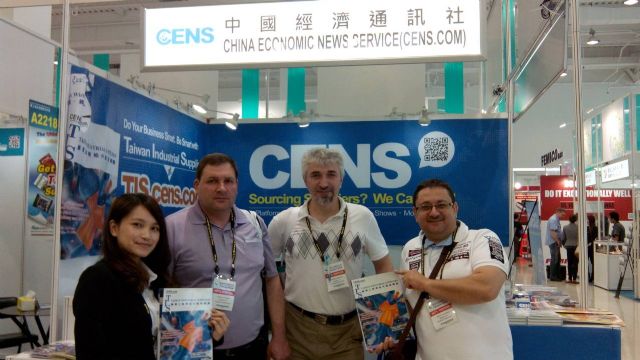 Foreign buyers at CENS booth at TIFS 2014.
CENS's unremitting devotion to promoting Taiwan's high-quality fasteners and top-caliber manufacturers have gradually paid off, as ever more professional buyers at fasteners trade fairs all around the world give their thumbs up to the Taiwanese export media. CENS's presence in the sector will surely keep growing in 2015, when it will attend a number of such exhibitions worldwide, including the National Industrial Fastener & Mill Supply Expo, scheduled for Oct.21-23 at the Sands Expo Center in Las Vegas.
(SC)