Compiled by STEVE CHUANG

Fastener production is one of Taiwan's globally competitive traditional industries, with production value exceeding NT$100 billion (around US$3.17 billion) yearly. Mostly clustered in Taiwan's southern region across Tainan and Kaohsiung, insiders generally boast exceptional quality, high production efficiency and flexibility, achieved mainly through high concentration of subcontractors who invest in R&D steadily to upgrade technologies.

Not to miss out on a global-scale marketing opportunity, over 180 makers from the island will be organized by Taiwan Industrial Fastener Institute (TIFI) in association with Kaohsiung city government into a sizeable exhibitor group to attend Fastener Fair Stuttgart 2015, held March 10-12 in Germany as a world's top-3 trade fair of this kind by size.

High-profile Event 
The general consensus is that Fastener Fair Stuttgart, held biannually in Messe Stuttgart,  gathers the world's top-end suppliers in fastener businesses to be a fast-growing, increasingly influential exhibition, as reflected by its rapidly expanding turnouts seen in the past years.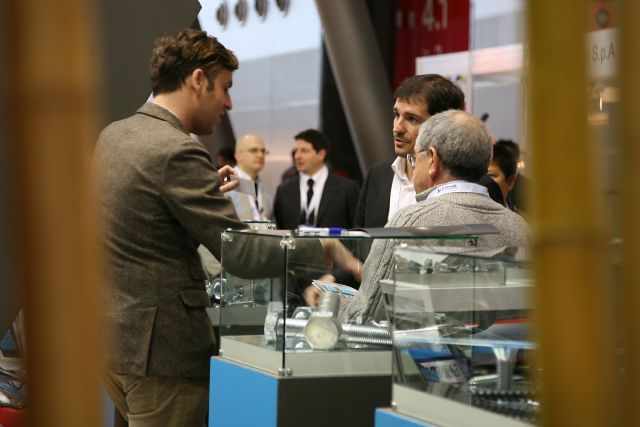 The Fastener Fair Stuttgart 2013 set a record in both visitor and exhibitor numbers. (photo courtesy of Mack Brooks Exhibitions)
According to statistics compiled by the organizer, Mack Brooks Exhibitions Ltd., the 2013 show hosted 811 exhibitors from 36 countries, and attracted 10,600 trade visitors from 90 nations, including Italy, the U.K., France, Poland, the Netherlands, Turkey, Spain, Switzerland, Spain, Sweden, etc., compared to 197 exhibitors and some 2,000 trade visitors respectively, in 2005, and 667 and 8,300 in 2013. The show's exhibition space also has expanded significantly, from less than 6,300 square meters in 2005 to 16,500 square meters in 2013.
One factor driving the exhibition's impressive  development over the past years, despite tepid economic growth across the EU bloc amid the debt crisis, is the broad-ranging exhibits. Categorized into industrial fasteners and fixtures, construction fixtures, assembly and installation systems, fastener manufacturing technology, storage, distribution and factory equipment, and information, communication and services, exhibits at this year's show will include nearly all aspects of products and services for the industry, including screws, springs, clamps, rings, cold and hot-forged fasteners and parts, stainless fasteners, non-ferrous fasteners, nails, staples, brads, turned and machined parts, power tools, nailing tools and systems, collated fasteners systems, adhesives and tapes, wall plugs, sanitary and plumbing fixings, self-drilling and tapping screws, packaging equipment, storage and material handling equipment, logistics services, roofing and solar installation fixings, brackets and connectors, CNC machining and turning centers, heat treatment equipment, and many others.
High quality of visitors that helps exhibitors to build effective, positive business links to buyers is also among the show's attractions. The organizer's latest survey shows that of the total 10,600 visitors in the Fastener Fair Stuttgart 2013, 64 percent  were directors and purchase decision makers, while 63 percent were distributors or resellers. This result obviously satisfied exhibitors, as shown by the same survey indicating 89 percent of  exhibitors having rated visitor quality as good or excellent, 98 percent fully or partly having achieved aims at the show, and 99 percent having expressed willingness to return to the venue again.
Nicolas Hamann, managing director of Mack Brooks Exhibitions, noted earlier on a news release, "We are very pleased with the development and further growth of the exhibition. This confirms, once again, the great significance of Fastener Fair Stuttgart for this industry sector," and "Fastener Fair Stuttgart 2015 is the meeting point and key marketplace for suppliers, manufacturers, wholesalers and industry experts of fastener and fixing technology."
Bolstered by its well-established reputations among fastener suppliers and buyers globally, this year's Fastener Fair Stuttgart will continue to set a new record in exhibitor number by hosting some 832 exhibitors from 42 countries, who will present their latest technical developments as well as conventional systems from all areas of fastener and fixing technology across some 18,400 square meters in four exhibition halls.
Taiwan's Stronger Presence
Motivated by business opportunities at Fastener Fair Stuttgart, TIFI will continue to organize a bigger Taiwanese exhibitor group this year after attending the first time in 2013, which proved to be successful to drive the industry's exports to Europe.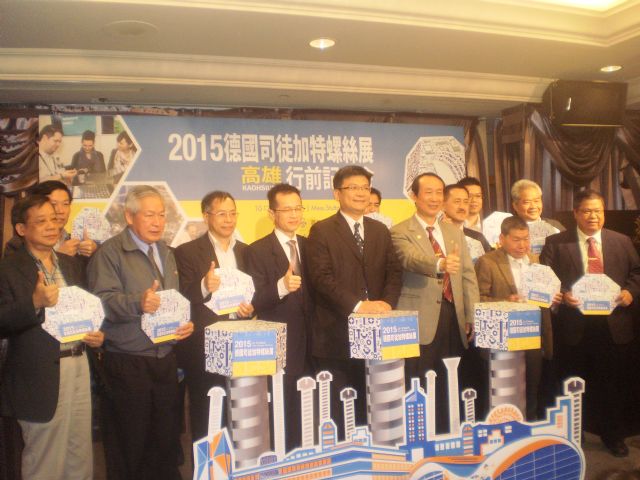 TIFI's press conference to announce participation in Fastener Fair Stuttgart 2015 in association with Kaohsiung city government and TAITRA on February 13.
At a press conference on February 13 to announce the group's participation at the show, Anchor Chang, the newly inaugurated chairman of TIFI, Taiwan's only trade group for fastener makers, stressed that the association sent the first time Taiwanese exhibitors to the show in 2013, and reaped fruit in the form of the industry's growing exports to Europe.
Chang indicated that the industry's exports to Europe reached some 555,000 tonnes in 2014, up over 18 percent compared to 470,000 tonnes in 2013, to which the chairman attributes mainly the participation of Taiwanese suppliers led by TIFI the first time at Fastener Fair Stuttgart in 2013. The encouraging outcome has motivated TIFI to  organize a bigger group to attend the show this year, given that the growth rate of exports to Europe exceeded the industry's average of 9.3 percent in volume.
This year TIFI will send a group of 181 exhibitors, 113 being TIFI's members, to the show, to make Taiwan the second-largest participating country only next to Germany, which will have 186 exhibitors this year. Exhibitors from Taiwan and Germany will make up over 40 percent of the total, to further enhance Taiwan's profile at the show. In addition to strong support of local fastener makers, the industry's enhanced presence at the show is also due to support from the Kaohsiung city government, which sizably subsidizes TIFI to promote image and capabilities of Taiwanese makers there, said Chang.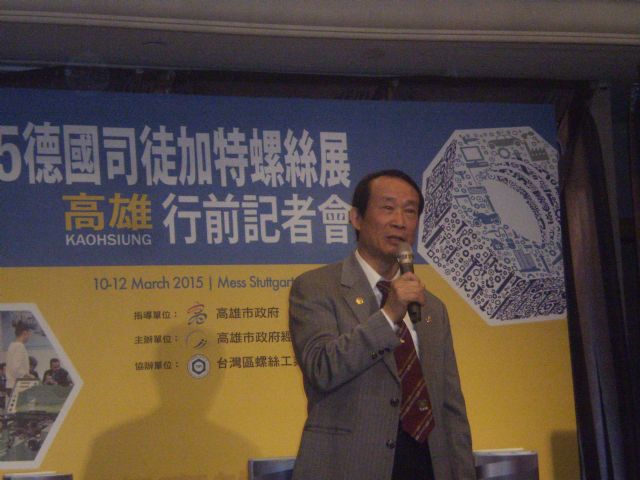 Anchor Chang, TIFI's chairman, announces a bigger Taiwanese exhibitor group to Fastener Fair Stuggart 2015 led by the association.
W.S. Tzeng, Directorate-general of Kaohsiung city government's Economic Development Bureau, said at the conference that KCG has actively aided local fastener makers to explore overseas markets for years, primarily because fastener production is a prime driver of the local economy in Kaohsiung. In 2013, Kaohsiung city government financed TIFI to promote Taiwan-made fasteners at Fastener Fair Stuttgart the first time. And this year, he stressed, KCG will expand assistance of the industry by not just subsidizing TIFI's participation in the show, but setting up a Kaohsiung Pavilion to attract foreign investors to the city, including circulating brochures to provide overseas buyers an overview of the industry's development there.
Another reason Kaohsiung city government  has decided to raise such subsidy, Tzeng said, is that the government looks forward to learning more from Fastener Fair Stuttgart's success, to make the Taiwan International Fastener Show (TIFS) better and more attractive to international trade visitors. Ever since inaugurated in 2010, TIFS has gradually gained recognition among exhibitors and visitors worldwide as the best fastener business platform in Asia, especially after the show moved to the brand new Kaohsiung Exhibition Center in 2014 to further boost its profile. As TIFS becomes one of the best-known international trade fairs in  Kaohsiung, as well as a growth driver for Taiwan's fastener industry, we expect to make it better, bigger to challenge Fastener Fair Stuttgart, said Tzeng.
W.S. Tzeng, Directorate-general of Kaohsiung city government's Economic Development Bureau, said local fastener makers are prime drivers of Kaohsiung's economy.
TIFS 2014 celebrated its third anniversary April 14-15 in Kaohsiung City, southern Taiwan, at the Kaohsiung Exhibition Center as the first exhibition held in the brand new venue, and hosted 350 exhibitors occupying 850 booths to start a new chapter, with the show having debuted in 2010 in the Kaohsiung Arena to accommodate only around 190 exhibitors. The two-day event drew  over 20,000 visitors and buyers, with nearly 2,000 from abroad, up 10.2 percent from 2012, according to statistics compiled by the organizers. Japan, China, the U.S., India, Germany, Malaysia, Hong Kong, S. Korea, Vietnam and Indonesia were the top-10 buyer nations sequentially.
The fourth TIFS will be a longer three days, April 11-13, 2016, to host foreign exhibitors the first time to feature over 400 exhibitors from home and abroad with some 1,000 booths.
TIFS's turnout set a record in 2014 after moving to the Kaohsiung Exhibition Center the first time.
As Taiwan's most experienced export media, CENS (China Economic News Service) will be on-hand to update buyers on the development of Taiwan's fastener industry, and keep track of the latest news on TIFI and Taiwanese exhibitors at  Fastener Fair Stuttgart 2015.