Compiled by STEVE CHUANG

The Taiwan Industrial Fastener Institute (TIFI), the island's only trade association composed of fastener manufacturers, is generally regarded as the driver of development of the industry over the past decades, and its newly nominated chairman, Anchor Chang, also the owner of Anchor Fasteners Industrial Co., Ltd. and Alliance Global Technology Co., Ltd., is taking over the baton to build a more sustainable future by tapping the association's resources in his 3-year tenure beginning in 2015.

Interviewed exclusively by CENS, Chang shed light on the current development of the industry, and his roadmap for a higher global profile to be built for Taiwanese fastener makers, in a robust tone that reflected his aggressive ambition and steadfast enthusiasm to attain the objective.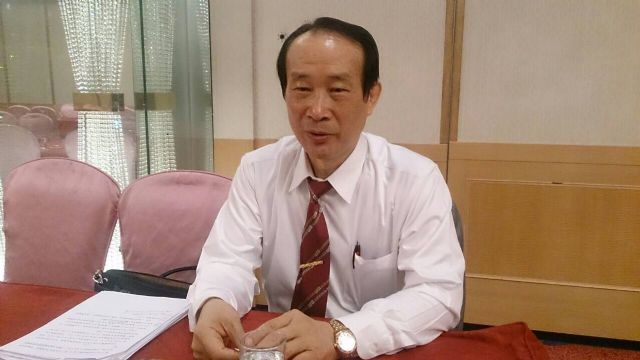 Anchor Chang, new chairman of TIFI as well as owner of Anchor Group and vice chairman of Formosan Association for Promotion of Oral Biotechnology and Medical Devices, talks about Taiwan's fastener industry in an exclusive interview with CENS.
Threats and Opportunities
While the industry's overall production and exports have steadily increased over the past years, Chang opines that emerging rivals, particularly those from China, continue to gradually encroach on global market share commanded by Taiwan.
China dethroned Taiwan the first time to lead as the world's largest fastener supplier in 2003, when the former's exports reached 1.27 million and latter 1.23 million tonnes. Since then China and Taiwan have held on to the world's top-2 positions, with exports of around 2.8 million and 1.6 million tonnes, respectively, in 2014, albeit with the gap  continually broadening, said Chang.
Another looming threat to local fastener makers, Chang emphasized, is the increasingly tight capacities of plating and coating suppliers in Taiwan, stemming from the discovery in 2013 of illegal dumping of waste water by a world-caliber semiconductor testing and packaging firm headquartered in Kaohsiung, the industrial hub in southern Taiwan. The incident has raised concern among residents over environmental protection to compel the government to clamp down on illegal electroplating and surface processing factories across the southern Taiwan region more strictly than before. The ripple effect has been the forced closure of a number of illegal plating plants to weigh on steelmakers and fastener makers, who have been obliged to outsource such services with legitimate processors but at higher costs.
Presently, Chang said that some local steelmakers are treating in-house corrosive wastes from surface finishing as strategy to fill orders on time amid shortages of plating and electroplating capacities, hence witnessing costs surge from NT$2,000 to NT$4,000 per tonne, akin to driving the final nail in the coffin for most Taiwanese wire rod suppliers that have so far eked out living on meager profit margins.
Despite legal electroplating plants rolling at full capacity now, many fastener manufacturers still struggle with tight supply and hence delayed delivery, which suggests the problematic status quo where fastener makers had to rely on underground subcontractors to keep costs manageable and for sufficient capacity. And obviously some makers are desperate to retain accounts to have decided to adopt airfreight for delivery instead of sea shipment, hence taking on 10-fold higher freightage. Reports are that using airfreight means manufacturers' ultimate cost to customers would skyrocket US$100 per tonne, a very conservative estimate without taking hidden costs into account.
But not all news has been discouraging despite lost market share. Regardless of growing rivalry from emerging competitors, Taiwan's overall fastener exports have remained on an uptrend, to some 1.6 million tonnes valued at US$4.26 billion in 2014. Chang summarized the main factors driving Taiwan's fastener production and exports even higher in the past years, including rational division of labor throughout the industry resulting from the high density of industrial clustering in Taiwan's southern region across Tainan and Kaohsiung, and stable supply of high-quality steels and wire rods from local steelmakers such as China Steel Corp. The industry's current success, the chairman added, is also due to the efforts by operators to upgrade production technologies and products.
Moving Upmarket
Amid underselling rivalry, most Taiwanese makers have been forced to move upmarket and upgrade capabilities, with such trend therefore enhancing the industry's presence in global supply chains of higher-end fasteners. For instance, around 30-40 percent of Taiwanese makers have successfully tapped the segment for automotive fasteners that call for strict standards and technologies to produce, after gradually phasing out production of DIY fasteners. "This proportion is expected to exceed 50 percent within three to five years, as global market demand for new cars has exceeded 85 million units yearly and is expected to keep growing to 100 million units in the short term," said Chang.
Citing real-world examples of diversification being effective strategy to fend off emerging competitors, Chang said a couple of Taiwan's top-end suppliers have even penetrated segments for aircraft fasteners and medical implants. Chang's Alliance Global Technology is a striking example of Taiwanese fastener makers venturing into the medical implant sector. The company's dental implants are ISO-13485, GMP, CE0120 and FDA certified, marketed under its "Anker" brand. Besides, Chang said his firm is Taiwan's only dental implant supplier capably filling OEM (original equipment manufacturing), ODM (original design manufacturing) and OBM (original brand manufacturing) orders from  advanced nations in Europe and America.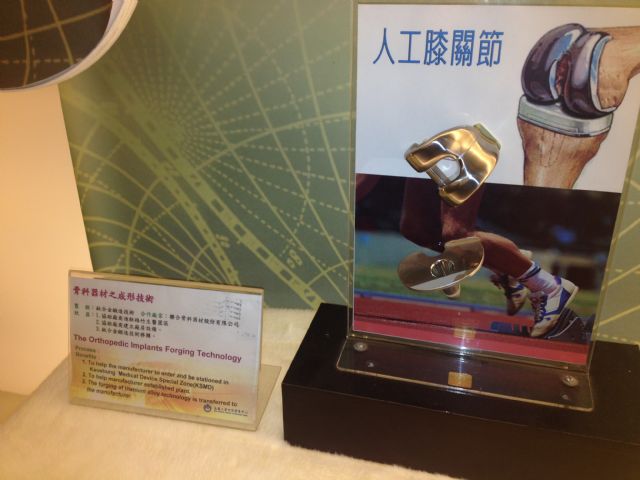 Medical implants has proven effective as strategy for Taiwanese fastener makers to fend off underselling rivals.
Additional good news comes from "one man's bane being another's bounty." Chang mentioned that, while Chinese suppliers have to grapple with the triple threat of rising wages, inflation and antidumping duties on China-to-EU fasteners of stainless steel that have raised production cost,  European buyers are more inclined to purchase  from Taiwan.
For instance, the EFDA (European Fastener Distributor Association) that sends representatives to meet TIFI every two years has expressed willingness to enhance cooperation with Taiwanese suppliers when ever more China-made fasteners there are subject to antidumping duties. "Since Taiwan-made fasteners are well recognized for high qualitative consistency and reliability, I believe prospects for Taiwanese suppliers look  increasingly upbeat in the short term," said Chang.
While TIFI has joined hands with China Steel, Metal Industries Research & Development Centre, a Taiwanese R&D body, and local fastener makers and plating-coating plant operators to meet officials from the Industrial Development Bureau under Ministry of Economic Affairs to come up with feasible solutions to the abovementioned shortage of surface treatment capacity, Chang said, some industry-leading fastener makers have taken the initiative to upgrade production facilities and adopt corrosive waste processing equipment, to not just reduce dependence on outsourcing surface treatment, but to turn out fasteners in line with global eco-protection and carbon footprint reduction standards. "While local suppliers will witness plating and coating costs inevitably rise to some extent, the upside is that such efforts will  help build sound reputation for Taiwan-made fasteners in the global market," the chairman stated.
Build Image and Capabilities
As the new TIFI chairman, Chang is aspired to lead the industry to further build its image and capabilities worldwide in different ways, from which he looks to see positive results in the coming three years.
Firstly, Chang noted TIFI will focus on enhancing collective marketing of Taiwan-made fasteners at global trade fairs. So TIFI will actively organize more exhibitor groups. "Our plan is to attend around 10 exhibitions worldwide a year, including the upcoming Fastener Fair Stuttgart 2015," said the chairman.
Chang said the German trade fair significantly helps to drive Taiwanese fastener industry's exports to Europe, as reflected by the industry's 2014 exports there that surged to some 550,000 tonnes compared to about 470,000 tonnes in 2013, to which he attributes mainly the payoff of the successful debut of a large exhibitor group led by TIFI in 2013. This year, a bigger exhibitor group composed of 181 Taiwanese suppliers, 113 being TIFI members, will be present at the biennial show, to be held March 10-12, to make Taiwan the second-largest exhibiting country only next to Germany
Looking to build collectively "Taiwan-made" fasteners as a brand that is empowered by the group led by TIFI, Chang stated, Taiwanese fastener suppliers can expect to impress international buyers with not only convenient sourcing but samples proving superb production capability as well as higher-end fasteners with world-class quality. To that end, TIFI is teaming up with Taiwan External Trade Development Council, a Taiwanese semi-official export promoter, and the Kaohsiung city government, to optimally tap official resources.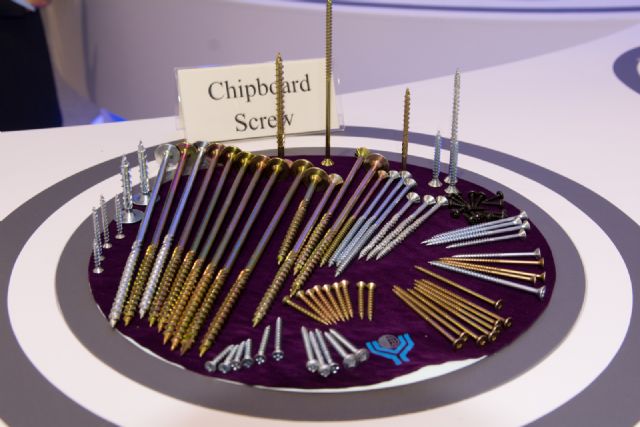 Construction fasteners are a major export by Taiwanese suppliers.
Also part of Chang's plan to promote Taiwan's mature fastener industry globally is to extend the duration of Taiwan International Fastener Show (TIFS) 2015 to three days beginning April 11. TIFS has proven to be the pride of not just local fastener makers, but also Kaohsiung City and Taiwan, for it has grown into the world's top-4 fastener trade fair by booth number and turnout since inaugurated in 2010. This show not only conveniently provides foreign buyers a snapshot of the world's highest density of fastener industry clustering in Taiwan's southern region, but helps turn Kaohsiung into one of the world's most important sourcing platforms. "Therefore my priority is to make this world-caliber trade fair better and more attractive to compete against others," said Chang.
Chang confirmed that TIFS will be open to foreign exhibitors the first time in 2015, to be also expanded in size to host around 400 exhibitors from home and abroad with over 1,000 booths. "Clearly there is demand from ever more companies worldwide to exhibit at the venue, which will help TIFS build bigger success next year," added Chang.
Fastener Service Cloud
Tapping synergies among insiders, R&D bodies, universities and upstream material suppliers to leverage the industry's overall competitiveness is another of Chang's objective in the near term, and the chairman has particularly high hopes for the Taiwan Fastener Service Cloud.
Designed to better link Taiwanese fastener suppliers with buyers worldwide, the Taiwan Fastener Service Cloud, a business matchmaking system hosted on the cloud, is constructed by China Steel, a major steelmaker and wire rod supplier in Taiwan, with support from National Sun Yat-sen University and the island's major fastener makers, such as Chun Yu Works & Co., Ltd., Anchor Fasteners, Jau Yeou Ind. Co., Ltd., Jinn Her Enterprise Co., Ltd., Boltun Corp. and so forth.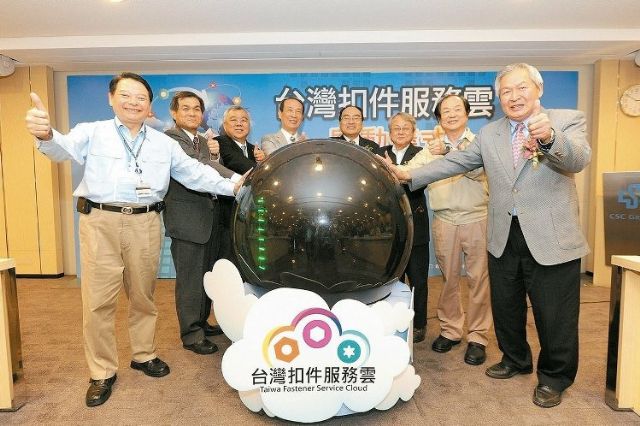 Taiwan Fastener Service Cloud was started up last December. (photo courtesy of UDN.com)
At the press conference held last December to start up the system, CSC's chairman, J.C. Tsou, indicated that his company came up with the idea as Plan B to help maintain the Taiwanese fastener industry's global competitiveness, following stalled negotiations between Taiwan and China on a cross-strait goods trade agreement.
Tsou noted then that aggressive Chinese undersellers continue to weigh on Taiwanese suppliers globally in recent years, which is likely to further deteriorate without the said agreement that was supposed to be forged between Taiwan and China. Therefore, CSC decided to team up with Taiwanese fastener firms to set up the cloud system, in hopes of assisting Taiwan's fastener industry to better go global through cloud, while allowing overseas buyers truly easy access to the industry.
Chang said the Taiwan Fastener Service Cloud works to help not just larger fastener firms to further enhance global exposure, but also smaller ones to effectively show innovation to foreign buyers. The cloud integrates updated information of supply-chain and customer demand situation to be shared among users. Exchanges between local suppliers and global buyers can be enhanced markedly, to ensure quality of suppliers and services, as well as improve the industry's global exposure.
With mobile Internet devices gaining popularity worldwide to revolutionize business models from the ground up, Chang feels that it is time for Taiwanese fastener makers to upgrade daily operations with digital and computer technologies, especially when the cloud system will enable complete data of products, services and suppliers to be stored and accessed via personal digital devices, to pave the next step in doing business on-the-go and perhaps secure sustainable development of the fastener sector.
Since applications of cloud and other e-management technologies in corporate operations are regarded as inevitable trend for not just tech industries, but also traditional manufacturing sectors, Chang said that TIFI will encourage and assist local suppliers to become familiar with and adopt such cloud system.
Chang concluded to say, "Company owners facing increasingly challenging markets must be ambitious and take on new challenges, and lock onto new technologies and products to keep up with market trends to spur continuous quality improvement." He continued that just like Alliance Global Technology had decided to venture into dental implant production 6-7 years ago, when the sector was showing strong growth potential that was overlooked by fastener makers. "Now Anker, known for devotion to keep upgrading quality, is recognized among professionals as the best domestic brand of such products in Taiwan, to in turn help Anchor Group build higher profile over conventional fastener makers from emerging countries," said Chang.