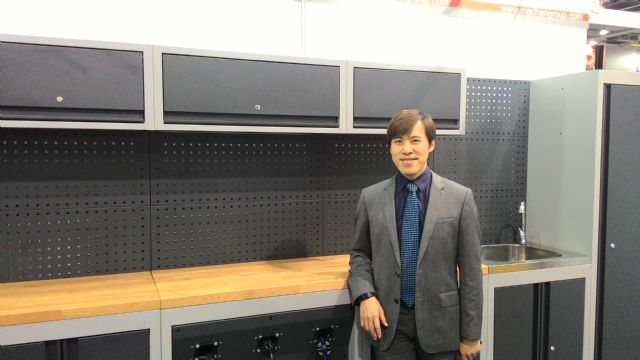 Machan Vice President Brian Chang with the company's modularized storage system.
The 1976-founded Machan International Co., Ltd. is promoting a series of advanced, practical and user-friendly hand-tool storage systems featuring modularized layout and digitized management technology such as radio frequency identification (RFID).
Basically the system looks similar to a huge kitchen cabinet system with well arranged spaces for storing utensils, with the key difference being the hand-tool storage systems offering greater flexibility in arrangement depending on user demand.
The company released the modularized products in 2014 by working with mold builders to modify existing storage systems that were widely made. 
Conceding humbly, the company vice president, Brian Chang, said, "There were already modularized storage systems for hand tools abroad before his company decided to emulate the foreign counterparts. But the initially launched products were pricey and not necessarily suitable for automotive repair shops. So we decided to develop a less expensive system that is optimized specifically for car repair shops," he stresses.
Machan's storage system is integrated with RFID, an ingenious feature that enables users to quickly locate misplaced tools, especially practical when a mechanic works alone and tend to be disorganized with dozens of tools stored in cabinets or drawers.
The company has landed orders from a Norwegian customer for 70 sets of the storage system.
According to Chang, the company is planning to build the wireless Bluetooth technology into its storage system so that storage management is upgraded in terms of user-friendliness. Moreover, it is considering combining its tool storage system with the Internet of Things (IoT) technology for the aircraft repairing industry.  
Its storage systems, notably, also suit workers in the home building, manufacturing and medical industries, or any sector that involves using dozens of tools.
Before branching out into tool-storage equipment manufacturing, Machan had been a metal-furniture maker initially. Chang notes that tool storage systems command higher added-value than furniture because they require higher impact resistance, load capability, durability, rigidity, and reliability relative to the latter.
All of the company's products are tested at an in-house laboratory, which mostly tests the products for durability and loading capacity. The laboratory sets durability standard at 30,000 cycles of use for its storage drawers and maximum loading capacity at one metric ton, making the company reportedly Taiwan's only tool-storage maker capable of making such drawers with maximum load of one metric ton without deforming.
The company's products are reliable for their safety designs due to not only the mechanical structure but also the use of non-hazardous materials. Thanks to its eco-conscious effort in material usage, the company has won Restriction on Hazardous Substances (RoHS) and REACH approvals of the European Union.
The company is also notable for obtaining the ISO9001 and ISO9002 certificates.
Besides being known for its capacity to offer custom products, the maker also has a reputation for providing the widest range of tool storage know-how in Taiwan. To date, the maker has over 200 customers worldwide.
The company aspires to become Taiwan's tool-storage version of Pegatron Corp., a leading Taiwanese provider of design and manufacturing service for electronic and computing devices. To achieve such lofty goal, the company continues to sharpen its efficiency in introducing trendy designs to meet market need.
The company provides its customers with total solutions using advanced computerized layout and management software such as IE3D, Autocad Solidwork, EPR and EIP, which help to enhance its capability to realize creative, innovative ideas, as well as to offer "thinking ahead" service.