Forsa Enterprise Co., Ltd., already recognized as one of the world's most comprehensive supplier of shock absorbers for motorcycles, scooters, all terrain vehicles (ATVs) etc., has been moving along another direction which is designed to take the maker closer to developing products for a new niche in the future, without interrupting its leader-of-the-pack position in the original core business.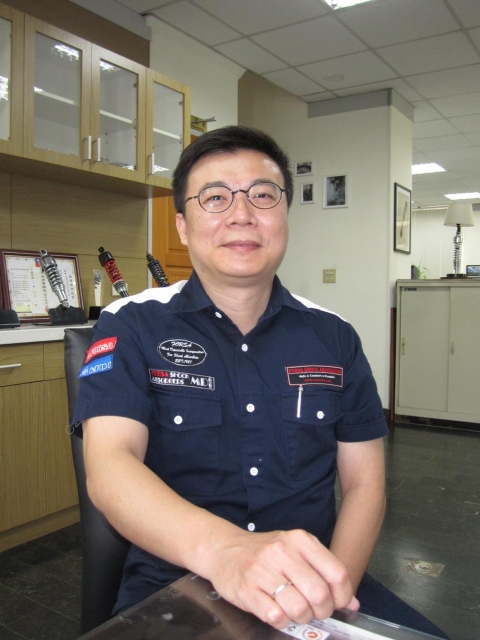 David Lu, director of Forsa, one of the world`s most comprehensive suppliers of shock absorbers for PTWs, ATVs, UTVs etc.
Not long ago, David Lu, director of the company, announced that his company had installed two new production lines at its existing factory in Tainan, southern Taiwan in late 2015. The new lines, according to Lu, will play the key role to further upgrade Forsa into an international player in some niche segments, entry to which is very  difficult for rivals.
New Strategies
Currently, Lu says, Forsa supplies more than 1,400 types of shock absorbers to  almost all major international makers of powered two-wheelers (PTWs), ATVs, utility vehicles (UTVs, or side-by-side in North America), golf carts, and different types of special-purpose or -utility vehicles on original equipment (OE)-basis. The firm supplies directly or via traders almost all major PTW and ATV makers based in Taiwan, as well as a long list of international big names.   
Before 2013, Forsa had developed itself into one of the world's leading shock-absorber makers of its kind and we have set up the works and believe it is time to take another big step to the next level, says Lu. 
Founded in August 1987 and along with stable, rapid business development, Forsa has maintained an operational mode by which about 30 percent of sales is generated by OE orders placed by international PTW and ATV/UTV makers; 30 percent by international multi-wheel vehicle makers (such as passenger cars, mini cars, special-purpose vehicles etc.) especially in Europe; and the remaining 30 percent by local trading companies selling Forsa products globally to OE or aftermarket (AM) customers.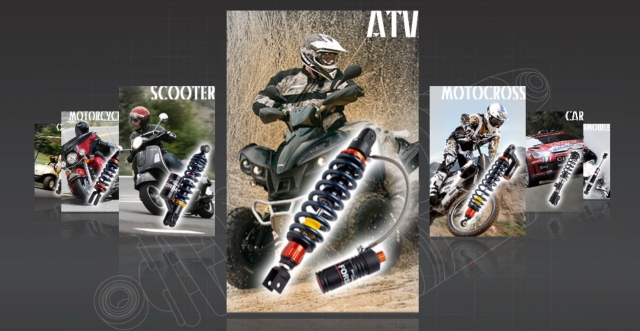 Forsa is a versatile shock-absorber maker of high-quality products for wide ranging applications.
In terms of sales by product categories, Lu furthers, PTW and ATV shock absorbers used to make up the major part, about 80 percent, of Forsa sales, but now the proportions of sales of customized products for special-purpose and -utility vehicles, mini cars, electric vehicles (EVs), agricultural equipment, or even sports equipment, are expected to grow quickly.
In recent years, more and more makers of special-utility vehicles come to Forsa to  ask us to help develop and produce shock absorbers, Lu says. Such customized production according to specifications, in many cases, is even more demanding than that for automotive shock-absorber products. To meet such demand trend, Lu says, Forsa has decided to pay more attention to the customization segment by tapping our long-accumulated know-how and expertise in the field, as well as our unmatched competitiveness in small-batch, large-variety production mode. In the past, Forsa's core strength lies in utilizing  developed parts and components (off-the-shelf or from parts bin) to build all kinds of shock absorbers meeting customer specifications, which can greatly cut production/development costs while shorten lead-time. In short, our company used to create new products based on OEM mode, and we took both small- and big-volume orders.
Regarding our new direction that targets the customization segment, Lu stresses, Forsa aims to find such customers  who has demand for big-volume production. We are ready to offer the fastest product development or the shortest lead-time, as well as unmatched, competitive costs. According to the director, Forsa is undoubtedly the world's most specialized developer and maker of spring-shock-absorbers, which are produced with key know-how, superior corporate and production management, world-class quality control. Lu adds that a superior shock absorber must not only work as demanded over different road conditions, but also not fail under all kinds of tough weather conditions. So it is all about know-how and experience.
Go-to Supplier 
Our new direction is the customization segment where we plan to target  applications mainly for special utility vehicles developed for specific usages,  terrains and ambient conditions, Lu says. Because such vehicles are niche products with relatively small volume, so makers of such vehicles typically have a hard time  finding a suitable supplier of shock absorbers with enough key know-how, reasonable pricing, and rapid-response capability. Without overly touting our own merits, we strongly recommend Forsa to special-purpose vehicle manufacturers worldwide. Simply put Forsa may be the only smart choice if a buyer takes everything into consideration. We are the go-to supplier of special-vehicle shock absorbers because Forsa has integrated capability achieved by our small-batch, large-variety production mode, solid reputation for supplying high-end products, and OE manufacturing experience, Lu says.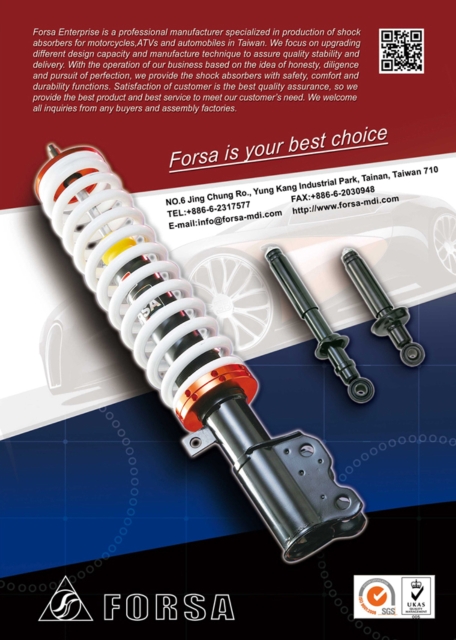 A high-end shock absorber developed, made by Forsa.
According to Lu, 100-strong workforce at Forsa's Tainan plant has not increased sizably after the installation of the two new production lines, because the new production lines are installed to turn out  product categories ordered by customization customers, so are equipped with many special machine tools  capable of big-volume production. In fact, our newly targeted customers are European assembled-vehicle manufacturers, and we do not see limits on future investment while venturing into the new niche market.
Forsa's revenues have grown over 10 percent annually over the past 10 years, even during economic downturns. Lu says that Forsa does not have to move production to low-cost nations, at least for now, because the company's unmatched manufacturing capability and cost competitiveness together achieve sufficient profitability. 
Forsa exports shock absorbers to over 50 countries, especially the U.S., Japan, and Europe. In the face of the low-cost challenge from mainland Chinese manufacturers, Forsa's strategy of focusing on high-margin products has helped to  successfully differentiate itself from its Chinese rivals in target markets.