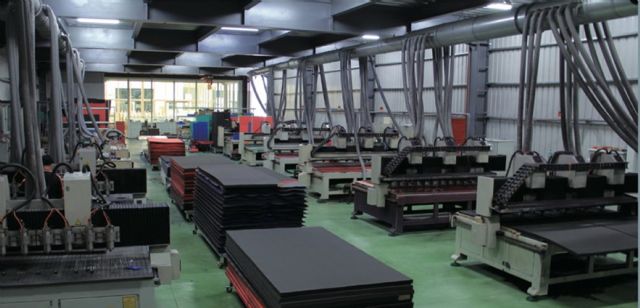 Best Friend sets up integrated automated production lines in house to achieve better qualitative consistency (photo courtesy of Best Friend).
The Taiwan-based Best Friend Enterprise Co., Ltd. is versed at designing and making various fixed cushions of PE and EVA mainly for packaging, protection and storage of hand tools.
The firm's EVA foamed products all have passed tests as required in RoHS and REACH enforced by European Union, and been widely used as fixed cushions and trays in tool boxes, protective storage boxes and roller cabinet drawers
Best Friend's foamed sheets are made with a patented thermo-laminating technology, which effectively prevents laminated sheets from coming unglued, as well as advanced laser engraving, on well integrated production lines in house without using molds. Such production method imparts the firm's formed sheets more consistent quality and impressive exterior on which elaborate, clear patterns and words that are laser-engraved along with vivid colors are shown, not to mention they are economical and eco-friendly.
Over the years, the company has actively expanded its production capacity by introducing more machinery into its factory, so as to better meet customers' demand.
At this year's Automechanika Frankfurt, running from September 13 through 17, Best Friend is exhibiting a brand new tool chest among other products. The chest is made completely of solid wood and, notably, structured with mortise and tenon joints as seen in Chinese ancient wooden products, which enables less use of glue and fasteners to be friendlier to users' health.
Readers and buyers interested in Best Friend may browse www.hazel-tw.com, or dial 886-4-2273-2288 for more information.