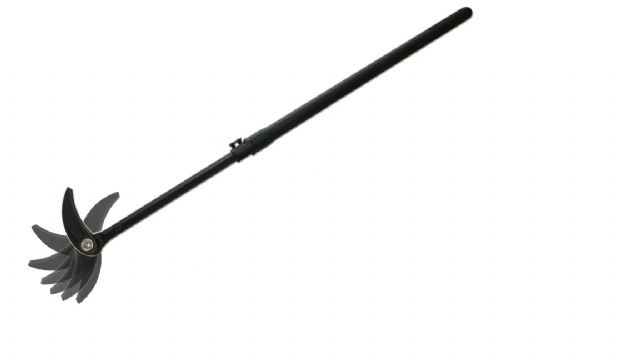 Tonsco®'s multifunctional pry bar obviates the need for complementary tools when used (photo courtesy of Tonsco®).
Adjustable, extendable, and interchangeable, Tonsco's patented multifunctional pry bar is a good helping hand tool for professionals in auto repair and wood construction industries, designed to address requirements by mechanics who tend to need a good prying tool to remove, reposition, align or place heavy or hot objects. Replacing engine parts in a vehicle is complicated; and mechanics often find it difficult to locate the supporting position with traditional fixed angle pry bars. Tonsco's GearJaw® angle adjustable pry bar could overcome the dead-angle limitations.
Simply press the clutch button for a selection of 14 angle positions, which are versatile for all kinds of working conditions. The patented gear lock set could withstand loads of up to 700kg and its torque is tested to be 1.5 times higher than DIN and ANSI standards. The prying head could be a forked shape, to have a greater access around an obstacle; or could be sharp jaws for seal pulling.
Another patent of Tonsco is FreeLong® which allows a pry bar extending from 42cm (16.5") to 135cm (53"), to create maximum leverage output and able to reach objects in the deep bottom. It could be retracted for easy storage and convenient portability. One does not need to buy many pry bars of different angles and sizes, a set of GearJaw® FreeLong® pry bar is sufficient. Tonsco's hand tools are green designed and manufactured. 
All the pry bars are designed and made in Taiwan, and patented in Germany, the U.S., Taiwan and China. In recently years, Tonsco has been working with major hand tool brands in the U.S. and Europe on an ODM basis. For the time being, the cumulative shipment of the adjustable, extendable, and interchangeable tool has exceeded several million units worldwide. 
Tonsco® is also known for its patented interchangeable bumping tools for auto body dent repair, the AllGo® series. With one comfortable and protective holder, parts of different working functions could be interchanged. Interchangeable hand tools save materials from duplication and hence are green to the environment.
Visit http://www.tonsco.com.tw for more information on the firm's innovative products.