AC/DC circuit protection products, automotive circuit breakers, thermal protectors, hydraulic circuit breakers, switches, power adapters
Founded in 1985, GLOSO Tech Inc. is today a TS1694- and ISO9001-certified manufacturer of switches and circuit protection products, and one of leading suppliers in the segment for low-voltage and overload voltage circuit protectors.

Backed by an experienced R&D team, well-trained workers and engineers, the company capably designs, manufactures and assembles various circuit protection products in house, while ensuring them to meet the safety standards of UL, ISO, SAE, TUB, RoHS and ENEC.

Gloso's product range covers AC/DC circuit breakers, circuit protectors, thermal protectors, hydraulic circuit breakers, rocker switches, push buttons, micro switches, battery chargers, power adapters, etc., mainly for use in cars, vessels, trucks, healthcare products, industrial products, and electronic components.

Insisting in offering customers truly fine products that are even more affordable than competitors, Gloso has built a large base of loyal customers in over 50 countries. It also accepts OEM and ODM orders.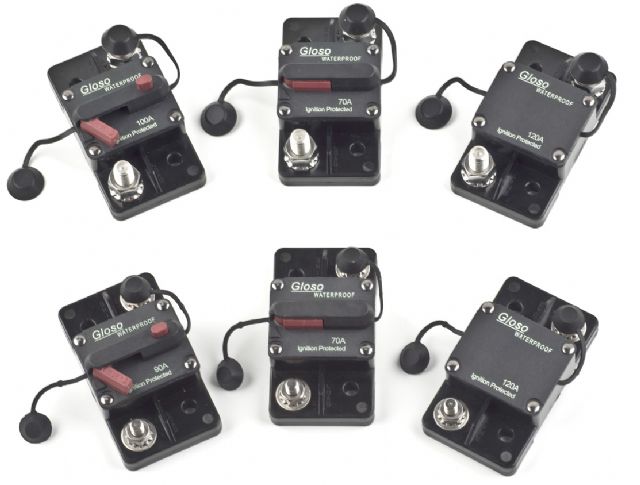 Gloso's waterproof hi-amp circuit breakers of GS E family.
Gloso Tech Inc.
1F, No. 6, Lane 35, Sanming Rd., Sec. 2, Banqiao Dist., New Taipei city 220, Taiwan
Tel: 886-2-2964-3330
Fax: 886-2-2964-3340
Email: cb@gloso.com.tw
Website: www.gloso.com.tw