Chin Hsi Hsu Co., Ltd is a manufacturer and distributor of auto air conditioning parts in Taiwan. We specialize in European vehicle a/c parts system. Product include Cabin air filter, Evaporator, Condenser, Expansion valve and Receiver drier. Our company was founded in 1989 and we have more than 20 years of experience in the auto a/c industry.

Meanwhile, we have been distributing European car a/c parts to wholesalers and retails around the world since 1989. We strive to understand and achieve our customers needs. CAFM offers our customers the best and trustable service.

We are continuing to provide next generation and latest auto air conditioning parts to our customers. We offer the best quality services and products to our business partners and clients. We have a highly effi cient R&D team establishing standards and producing marketable products. We have considerable knowledge on OE items and keep ourselves up to date to present-day auto a/c market. Most importantly, we adopt total quality control (TQC) to ensure our leadership in product innovation, thereby keeps us internationally competitive at all time.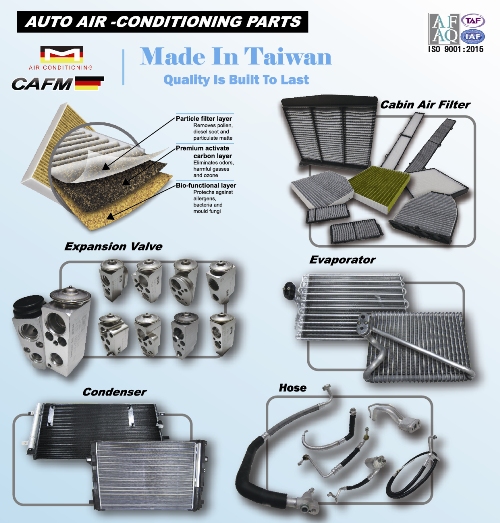 CHIN HSI HSU CO., LTD.
No. 11, Lane 58, Ho-Chiang St., Taipei City, 104, Taiwan
Tel:886-8-8662-6311
Fax:886-2-2664-5830
Email: cafm.sam@msa.hinet.net
Website: www.cafm.com.tw