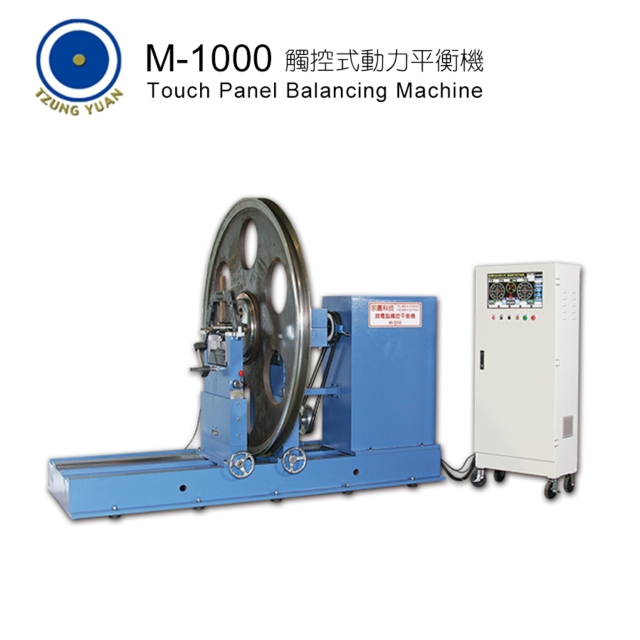 Touch Panel Balancing Machine
Hot
Model:

M-1000
Detail Specifications / Descriptions
Application: 
For the balance and correction of rotary components and Assemblies for Axis,
Glidewheel, Motor, Generators,Exhaust fans,Eengines, Agricultural Machinery,
Textile Machinery, Food processing machinery, Automobiles and Motorcycle.



Features:
.
Man-machine interface touch operation.
.
PLC control system.
.
Human/machine interface for easy balance-weight testing, balance weight unit will besst as "gram"after testing.
.
Monitor displance all sorts of setting and digitized imbal ance angles,weight,rotation speeds,
and synchronous vector ray charts.
.
Historical data can be done using USB storage function.
.
Workpiece balance value can be preset w/ to enable indicate of finished-item standard qualification / disqualifi cation.
Model

M-500

M-1000

M-5000

Weight range of workpiece

5-500kg

50-1000kg

50-5000kg

Workpiece diameter

1500 mm

2000 mm

Joint drive

1300 mm

1500 mm

Distance between bearings

1500 mm

Journal

50-130 mm

50-180 mm

50-250 mm

Vector scope measuring

650-700 RPM

650-800 RPM

650 RPM

Precision

G6.3

G6.3

G6.3

Drive motor


15HP

20HP

30HP

Screen

22" Touch screen

Laser Scanner

Scanner(Optional)