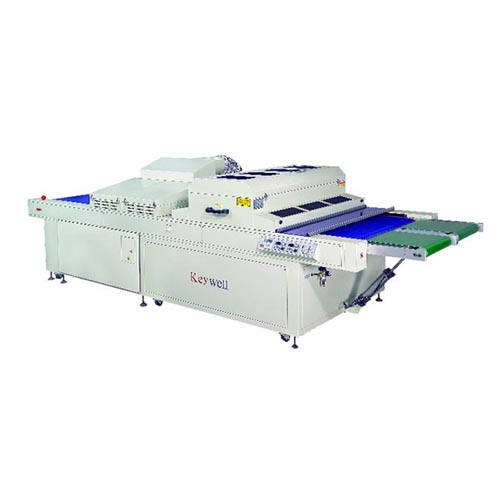 UV Conveyor Dryer
Model:

KY-72BII / KY-86BII / KY-105BII / KY-116BII

Country of Origin:

Taiwan
Detail Specifications / Descriptions
Suitable for drying paper, sticker, plastic sheet… after UV varnished or UV screen printed.
Product Feature
1. Machine body is constructed by SS#41 high-grade steel plates with anti-rusted coating.
2. Conveyor is driven by the reducer motor and speed is controlled by the inverter.
3. UV section is with vacuum hold-down to prevent substrate from fluttering.
4. Front crossover is for connecting with automatic screen printing machine. It can be lowered for cleaning screen stencil easily.
5. UV lampshade: Unique aluminum radiator with German reflex plate to achieve the highest efficiency output.
6. The German quartz cooling filter can reduce the UV ray temperature (optional).
7. Draw type lamp box is easy for maintenance and replacing lamp.
8. Forcing cooling system: Equip high efficient cooling fan with special cooling structure to reduce the UV oven temperature.
9. Control panel: Power switch, UV lamp switch, tri-power switches, Current meter of each lamp, accumulating timer of each lamp, over temperature indicator, emergency switch.
10. Safety device: current overload protector, temperature overload protector, exhaust motor overload protector and control circuit fuses.