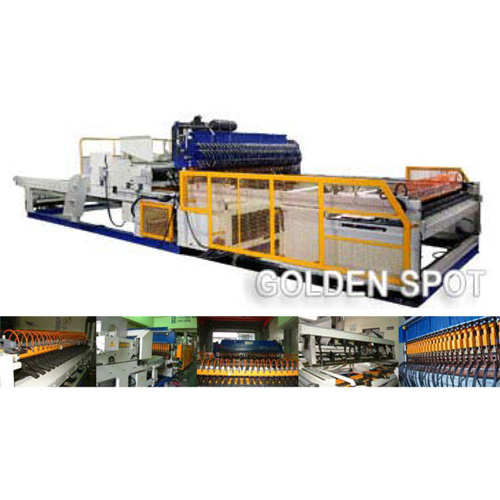 Hydraulic System (Single Spot)
Model:

GSA-125S
Detail Specifications / Descriptions
•Feeding line wire to the spot welding position by manual
•Press the workpiece by cylinder then fed by motor running
•Reached to the spot welding system
•Cross wire was fed by carriage with sole hopper
•Feeding to the position then in the process of welding
•Workpiece was holded by holding system
•Wire mesh completed

Spot Welding System
Adjusting the up compressed cylinder, electrodes, and fixture based on the wire pitch. Possible individually set welding time and current.
Hydraulic Single-Point Welding.

Cross Wire Feeding System
It is auto sole cross wire loading carriage. Carrying a bundle of wires into the carriage by traveler. Integrated with the welding system, it is with the function of auto wire ordering, outputting.

Output Installation
Equipped with servo motor and gripping pliers to adjust the required pitch, carry the welded mesh to next work station.

Controlling System
Equipped with man-machine interface windows based for the use of P.L.C, all the parameters and figures set on the screen. Easy for operators running and maintenance

Application :
Shell structure, wall structure, reinforced concrete road, retaining wall, protection slope, floor, floor boards, successive wall, and so on.