3A PVC WIRE & CABLE CO., LTD is the professional in wire and cable lines & Auto with 30 years in the field, the quality of recognition received by the market, called the domestic wire and cable & Auto major brands with line, specify the use of popular domestic and international customers, marketing products throughout the world .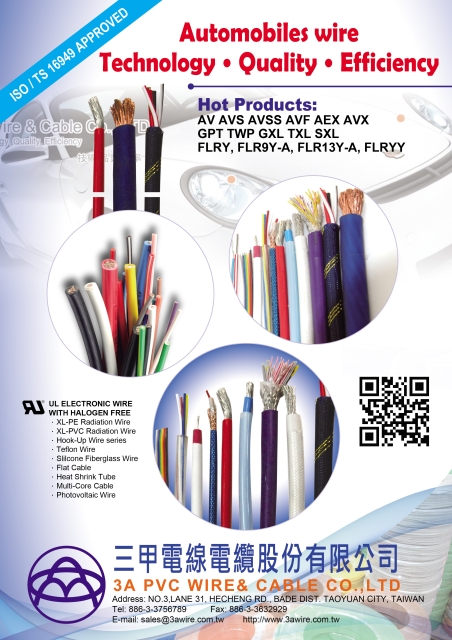 Our wide range of products covered the low-lead low-cadmium (RoHS) environmental protection cable, low smoke and toxic cables, automotive wire, control cables, isolated (shielded) cable, elevator cable, fire resistant cables, crane cable, computer cable, composite cable, etc, are widely used in industries of machinery wiring, instrument control, signal transmission, etc.
. Our strict quality control in the wire and cable, automotive field lines to obtain American UL wire and cable factory and automobile lines of product certification, quality certification body recognized by the international and affirmation, through the ISO 9001 certification and with internationally renowned manufacturers and technical cooperation, and constantly develop new products, enhancing the efficiency of new production technologies and to meet market demand, serve a wider customer base.
3A PVC WIRE & CABLE CO., LTD.
No. 3, Lane 31, Hecheng Rd., Bade City, Taoyuan County 334, Taiwan
Tel: 886-3-3756789
Fax: 886-3-3632929
Email: sales@3awire.com.tw
Website: www.3awire.com.tw; www.cens.com/3awire