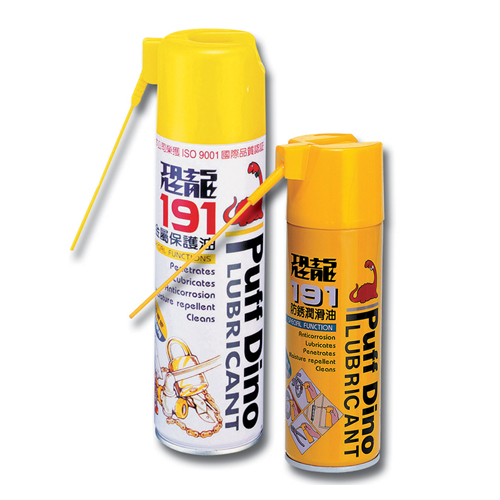 191 Spray Metal Lubricant /Anti-Rust
Model:

DI10.20

Country of Origin:

Taiwan

Material:

Aerosol
Detail Specifications / Descriptions
* Volume: 220ml/420ml
* Packaging: 12 cans/box, 24 cans/box
Characteristics:
* 5 Major features: Antirust, lubricating, penetrating, water repelling, cleaning.
* Clever spray tube attached, can easily apply lubrication into hidden spot.
* Small size (220ml) is made to be portable, suitable for bicycle and DIY user.

Application:
* Auto maintenance: Provide lubrication, prevent rust erosion, loosen the screw, and clean up the oil sludge.
* Factory industry: Can be used in machinery component, hand tools, and any gear wheel.
* Home appliance: Windows, fan, weeder, and locker.