With strong manufacturing and product development capabilities, the ISO 9001:2008-certified Sonyco Industrial Co., Ltd. specializes in making quality gasket and overhaul kits with operations in Taiwan.
Though focusing mainly on the global aftermarket, the company supplies a wide array of quality products meeting original equipment (OE) standards, also marketing globally under the "SONYCO" brand, one synonymous with high quality and competitive prices, as well as supplying to big OEM/ODM customers.
The company offers gaskets, overhaul repair kits(full set), diesel-engine gaskets, packing oil seals, valve-stem seals, o-rings, oil pans, exhaust and intake manifold gaskets, valve-rocker cover gaskets, cylinder liners, pistons, liner kits, auto parts, engine parts, engine fitting, o-ring box, oil seal, rubber kits and more.
Sonyco supplies gaskets and other items for almost all major diesel and gasoline engines in automobiles, heavy-duty machines, forklifts, trucks and buses, and agricultural machines. The company is dedicated to using high-grade materials imported from Japan and the U.S.
The company works with subcontractors in Taiwan and has adopted stringent quality-control to uphold quality, focusing on division-of-labor and specialized production to achieve the highest production flexibility and competitive prices.
Sonyco regularly develops dozens of new products yearly to broaden its product line, either targeting popular vehicle/machine or developing items according to customers' samples and specifications, as well as known for satisfactory pre- and after-sales services.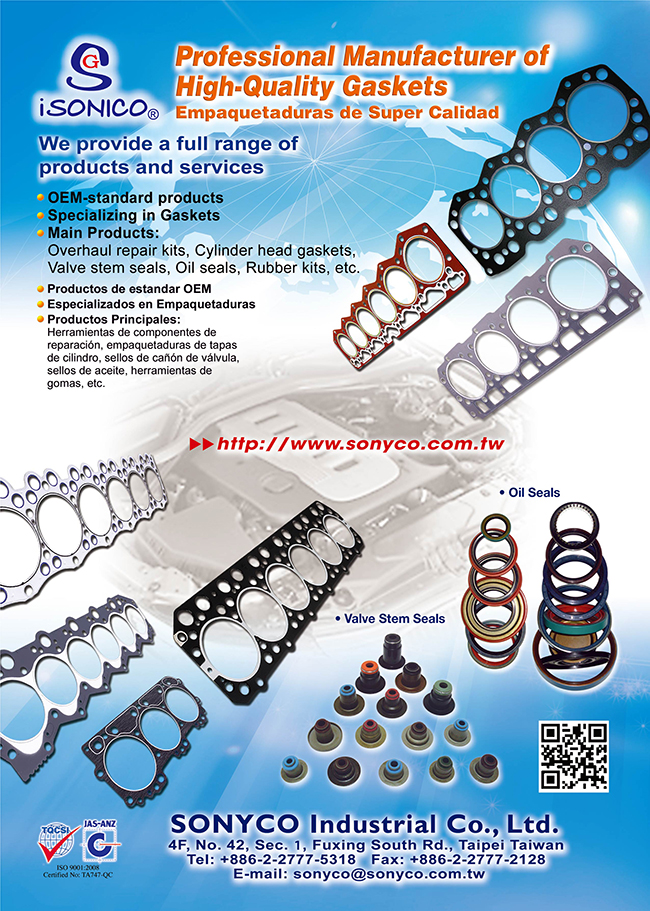 SONYCO Industrial Co., Ltd.
4F., No. 42, Sec. 1, Fuxing S. Rd., Taipei, Taiwan 104
Tel: 886-2-2777-5318
Fax: 886-2-2777-2128
E-mail: sonyco@sonyco.com.tw
Website: www.sonyco.com.tw