Taiwan International Fastener Show (Kaohsiung)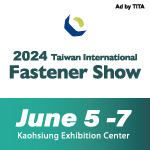 Show Date:
2018/04/10~2018/04/12
Show Place:
Kaohsiung Exhibition Center
No.39, Chenggong 2nd Rd., Qianzhen Dist., Kaohsiung City 806, Taiwan
CENS Booth:
G2407
Official Website
 Sponsor
Bureau of Foreign Trade, MOEA
 Co-Sponsor
Kaohsiung City Government
 Organizer
Taiwan External Trade Development Council (TAITRA)、Taiwan Industrial Fasteners Institute (TIFI)
 Venue
Kaohsiung Exhibition Center (No.39, Chenggong 2nd Rd., Qianzhen Dist., Kaohsiung City)
 Show Dates & Time
April 10-12, 2018 (3 days) 9 am-5 pm
 Entry
Local Visitor: Please bring Invitation or business card to claim your badge at the registration counter.
Int'l Visitor: Please bring Pre-registration Confirmation Letter or business card to claim your badge at the registration counter.
※ Children under 12 years of age are not allowed to admit.
※ Only fastener industry company、finance expert、transportation profession and faculty are permitted to admit the Taiwan International Fastener Show.
 Exhibit Category
Nuts, Bolts and Screws
Fastener Manufacturing Equipment
Fastener Tools
Meters & Instruments
Wire & Raw Materials
 Events
1. Welcome Reception
2. 1-on-1 Procurement Meeting
3. Seminars and Forums
4. Fastener Industry's talent "Matchmaking" event.
※Events are subject to change without prior notice. Please check website for updated information.
 Contact Person
Taiwan External Trade Development Council (TAITRA)
Address: No. 5, Hsinyi Rd., Sec. 5, Hsinyi Dist., Taipei City, Taiwan
T: +886-2-2725-5200 ; F: +886-2-2720-2027
Project Manager: Ms. Jessica Cheng Ext 2984
Press Coordinator: Mr. Ming Li Ext 2988
Project Assistant: Mr. Charlie Liu Ext 2998
Email: fastener@taitra.org.tw
Website: www.fastener.com.tw
 Exhibition Highlight
1. Organizing 1-on-1 Procurement Meetings, assisting domestic exhibitors to deal business with the international buyers.
2. Connecting fastener related departments from Universities with attendants to explore new talented person for the future fastener industry.
3. Mobilizing 60 TAITRA foreign units around the globe to invite international buyers attending the show.
4. Holding forums and seminars which focusing on the fastener industry in order to assist the attendants get on the newest market trend.